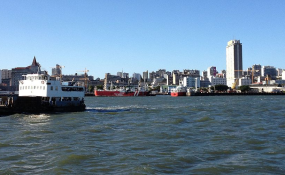 Photo: Gustavo Sugahara/Wikipedia
Maputo — Mozambican Prime Minister Carlos Agostinho do Rosario on Monday declared that, in order to reduce its budget deficit, the country must continue to improve efficiency in tax collection and "rationalise public expenditure".
Speaking in Maputo at the opening session of the 13th annual conference of the Public Accounts Commissions of the Southern African Deveopment Community (SADC), Rosario said Mozambique faces structural challenges in the management of public finance, arising from the fact that revenue does not cover expenditure.
The scale of the deficit is shown by the fact that current projections show expenditure running at 33.5 per cent of gross domestic product (GDP), while revenue is only equivalent to 23.2 per cent of GDP.
In absolute terms, the budget for 2018, which the government will present to the Mozambican parliament, the Assembly of the Republic, envisages total government expenditure for the year of 300.7 billion meticais (4.92 billion dollars), but government revenue is estimated at only 222.8 billion meticais, leaving a deficit of 77.9 billion meticais.
Only by reducing public expenditure, and improving revenue collection would it be possible to ensure that resources are available for investment and for reducing domestic indebtedness, said the Prime Minister.
To increase efficiency and reduce operational risks, he added, the government has been modernising the State Financial Administration System (e-SISTAFE), banking on the use of modern information and communication technologies.
Rosario stressed the use of electronic taxation and customs clearance systems to avoid tax evasion and contribute to greater speed in foreign trade operations.
He said that a risk management ofice has been set up with the task of analysing financial and fiscal risks, and the risks arising from state business enterprises. This office is also analysing the evolution of the public debt portfolio. Once again, Rosario stressed the government's commitment to restructuring its debts, so that they can be brought down to sustainable levels.
Alongside these measures, the government is also develping an action plan which envisages criteria for analysing and selecting public investment projects based on economic and financial viability studies, so that they will ensure better rates of social return.
At the same time, public companies and other enterprises in which the state holds shares are being restructured, said Rosario, so that they become more efficient and competitive and no longer dependent on the state budget.
"It is our conviction that implementation of these measures must be complemented with strict observance of good practices in managing public assets, by holding officials responsible, and by fighting against corruption", he said.
Good governance, and transparent and responsible management were the pillars ensuring that every metical "is used as efficiently as possible, in order to generate a greater impact on people's lives", he declared.
The chairperson of the Mozambican parliament, the Assembly of the Republic, Veronica Macamo, told the meeting it is urgent to improve mechanisms to fight against corruption and abuse of funds in SADC member states.
That meant continually improving procurement procedures, accountability, internal control and audits, she said, thus contributing to rational and transparent management of public funds.
Citizens, she added, needed to follow the activities of the government "and be certain that the money from their taxes is being used for the purposes declared in the plans approved by the relevant bodies".
SADC member countries, Macamo said, are promoting public policies to fight against poverty and endemic diseases, and to create the capacity to face natural disasters and reduce foreign dependence. Overcoming these challenges would, over the medium to long term, allow SADC members to become medium income countries.
"But for this, we need balanced and sustainable public finance", she stressed, in which the monitoring role of parliaments was crucial.
Macamo also insisted on the need for proper monitoring of the revenues from large mining projects.
"We have said we want our mineral resources to be a blessing, not a curse", she declared. "the resources we own must serve to improve the life of our peoples, and not to divide them or create conradictions among us".