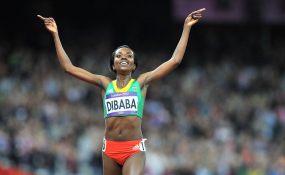 Photo: BackpagePix
Ethiopian three times Olympic gold medallist and world champion Tirunesh Dibaba snatched the Chicago Marathon women's title on Sunday, pulling away to win her first major crown at the distance.
Tirunesh won at a time of 2 hours 18 minutes and 31seconds to leave behind Kenya's Brigid Kosgei by 1:51 to take the second place with American Jordan Hasay third in 2:20:57.
From the start Tirunesh vowed to challenge the women's course record of 2:17:18 set by British world record holder Paula Radcliffe in 2002 and was on that pace in the early stage but she was not able to slash that record.
What was observed was that Tirunesh led after 5km in 16:08, 19 seconds under Radcliffe's course record pace, and had trimmed the field in the lead pack to only five.
Tirunesh led at the halfway mark at 1:08:48, well off Radcliffe's record pace, but made another charge that left only Kosgei on her heels. The Kenyan fell back with 10km remaining, leaving Tirunesh alone to the end.
Tirunesh is a two-time 5,000m world champion and three-time 10,000m world champion who settled for second at this year's worlds in London, trailing only to compatriot Almaz Ayana.
Tirunesh also won 5,000 and 10,000 gold medal at the 2008 Beijing Olympics and defended the longer crown (10, 000m) four years later in London Olympics. Last year in Rio, Tirunesh was third in the 10,000m with the fourth-fastest time in history.
And Tirunesh was second at London Marathon in April in 2:17:56, becoming the third-fastest woman at the distance on a similar flat course in only her second effort at the distance.
After culminating the most gruelling 42 kms and 195m race Tirunesh said that she was actually wasn't running against anyone. "I was running to improve my personal best. I'm very happy I won. I trained very hard for this big international event. I knew if I maintained my own pace I would be able to finish in 2:17 but I was not able to meet that target," Tirunesh said.
She added: "I've won many races. I'm not going back to the track. Hereafter I'm only running marathons. In London World Athletics Championship I had a plan to run marathon but a few months before the start of the global event I changed my mind following the advice of my coaches. I managed to finish second in 10, 000m. That was good. Now I want to have Olympic gold medal in marathon. If I get that I will be the third Ethiopian to collect gold in marathon next to Fatuma Roba and Tiki Gelana and the first athlete to get the track and marathon Olympic title. That is what I aspire to get at this time."
Tirunesh had the ambition to make history in Chicago. She wanted to beat the 2:17.56 she run when she finished second in London on April 23 this year. She wanted to break the course record of 2:17.18, set by Paula Radcliffe in 2002. She eyes also Radcliffe's world record of 2:15.29.
What was a surprise revelation was that she said she skipped the award ceremony at the London World Championships in August after finishing second in the 10,000 meters so she could begin training for Chicago.
Tirunesh earned her first marathon victory in the span of three years.
Meanwhile, international media reported that Galen Rupp became the first US men's winner of the Chicago Marathon since 2002 when he took victory in the Windy City on Sunday in 2:09:20.
The 31-year-old surged clear of his rivals with three miles to go as he beat 2016 winner Abel Kirui of Kenya by 28 seconds with another Kenyan, Bernard Kipyego, third.
Kenyans had won 13 of the past 14 men's races in Chicago, with the only other win coming from an Ethiopian. But Rupp broke the East African dominance as he became the first American to triumph since Khalid Khannouchi took the race in 2002.
Rupp was the London Olympics 10,000m silver medallist.