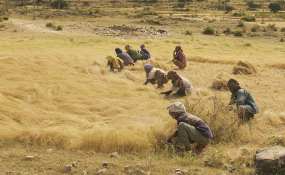 Photo: A. Davey
By Abebe Wolde Giorgis
The National Meteorology Agency said as last rainy season witnessed heavy downpours of the past many years and also urged nation to take advantage over the great rainfall to garner bumper harvest.
Agency Deputy Director Dulla Shanko said the agency releases beforehand weather information to the Ministry of Agriculture and Natural Resources, farmers and other stakeholders every three days through various mass media and its website.
Using its eleven branches in Amhara, Tigray, Somali, Afar, Oromia, Southern Nations, Nationalities and Peoples, Gambella and Benishangul Gumuz states, the agency provides latest weather forecast using its over 1,300 weather stations across the country.
Moreover, around 233 stations are well equipped with modern apparatus that receive atmospheric information within 30 kms distance.
The agency also provides weather information to the Ministry of Water, Irrigation and Electric and Disaster Prevention and Preparedness Commission in a bid to give them green light when torrential rain occurs, he noted.
The Ministry of Agriculture and Natural Resources Public Relation Officer Daniel Dentamo for his part said the current heavy rainfalls are helpful for highland farmers who sowed seeds lately for various reasons. However, he urged farmers take every necessary measures to protect their crop from possible damage due to heavy rain.
He also said farmers who plowed their farms in rugged and slop areas need to dig drainage to protect the farm from possible erosion.
According to Daniel, the amount of rainfalls vary from place to place particularly in the areas .For example, the rift valley, eastern Tigary and Wollo and parts of Afar region receive little rain, hence, he called on farmers to harvest the water , use it economically and retain precipitation. Furthermore, they have to sow crops that grow fast such us lentils,cheek pea,pea and bean.