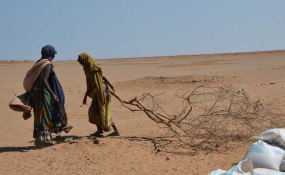 Photo: Melese Awoke/WFP
editorial
It is obvious that poor countries and vulnerable people are always facing a barrage of economic, environmental,health, social and political shocks as well as natural disasters.
To mention some of these shocks and natural disasters that have been affecting the poverty-stricken nations are the following; volatile food prices,financial crises, droughts, earthquakes,diseases,conflicts, violence and like.
The aforementioned shocks and disasters have been disrupting the food supply and threatening food and nutrition security of poor countries. Bearing this in mind, Ethiopia has been enhancing its drought mitigation efforts with a view to strengthening resilience and achieving food and nutrition security for all.
On many occasion,most of the experts and practitioners from food,nutrition,health,agriculture ,humanitarian and related development sectors have echoed that building resilience means helping individuals,households,communities,and countries anticipate,prepare for,cope with,and recover from shocks and not only bounce back to where they were before the shocks occurred,but become even better off.
In fact, the concept of resilience is currently the subject of wide attention in the development community,but resilience in the context of food and nutrition security is less widely discussed. That is why many people have urged governments to take resilience seriously in a bid to ensure an end to hunger and under-nutrition sustainably and forever.
Of course , a resilience approach has the potential to improve livelihoods and support economic growth and transformation while mitigating future shocks .Plus,it can help developing countries tackle issues that run across the entire agriculture,food,nutrition, and environmental system..
In the same vein , investing in the resilience of smallholder farmers is tantamount to investing in the food system,the resilience of communities,and the strength of nations.
Indeed, there are many approaches to creating resilience,but what is more important is to start with what exists,with local knowledge and a partnership approach.
Apparently, Ethiopia could be taken as an exemplary nation in a view with building resilience to the rest of poor and vulnerable countries. Adding that during the 2016 drought and famine in the Horn of Africa,the impact in Ethiopia was limited compared to the horror stories of the 1980s because of good leadership and government policies that addressed macroeconomic and ensured investment in drought preparedness and smallholder farmers.
Of course, Ethiopia has adopted a plan for the growth and transformation of its economy. The plan consists of investment and policy approaches for enhancing agricultural productivity ,expanding key infrastructures such as energy and communications, and promoting industrial growth.
These in turn embody Ethiopia's key strategy in enhancing resilience to shocks of many forms,which is to build a robust and diversified economy.
So how do a nation build resilience for food and nutrition security?
First of all, it is to listen to and respect the opinions of local people. They may not have high levels of formal education,but they know the land and local conditions far better than the development workers.
Then, development is not something that we do for people since it is what people do for themselves. Thus,resilience is a consequence of successful rural development as a whole.
The third proposition is that poor rural people are not looking for charity. Handouts do not not build resilience, they rather increase dependency. Hence, we should build resilience through partnership based on approaches that respect the dignity of the recipients ,foster ownership and ensure sustainability.
The last one is that the efforts to build resilience must start with a change in mindset. As farming is a business, no matter the scale or size, small -scale farmers are the main on-farm investors in agriculture throughout the developing world. They must be regarded and respected as equal and integral partners in development.
In sum up, achieving the international set goal of ending hunger by 2025 across the globe highly depends on strengthening resilience in coping and prospering in the presence of any human and natural shocks as well as disasters.