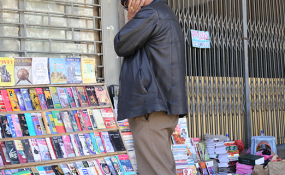 Photo: Addis Fortune
By Robel Yohannes
What does reading culture and postal service have in common? According to Gedey Gebreyohannes, General Manager of the Ethiopian Postal Service, writing and reading letters signify a start or gateway into a reading culture within young minds. Writing letter represents the first love of young students with reading and writing.
Owing to its closeness to reading culture of a given society, Universal Postal Union (UPU) for the past 40 years has organized an International Letter-writing Competition for young people aged below 15 in cooperation with UNESCO.
While the Ethiopian Postal Service also organized the competition since its inception, last Monday it arranged a panel discussion aimed at discussing the current state of reading culture within the young generation, thereby carry out its social responsibility in this regard. During the discussion, it was disclosed that the participation of the young in the competition have been diminishing, and various perspectives were heard to rectify the situation.
Dr. Mohammed Ali, a lecturer at Addis Ababa University (AAU) structured his argument that would help reignite the reading culture within the young. For him, as reading entails the relaying and receiving of knowledge, information, persuasion, and sharing of experience, it is a vital component to create a responsible, resourceful and ethical generation.
Reading culture also facilitates a generation of young people that are capable of identifying between the good and the bad sides of the impacts of globalization and thereby strengthen their capabilities accordingly.
According to Dr. Mohammed, the issue requires concerted efforts from the government to the individual level. And he proposed what he called a two-pronged support - professional and financial. In terms of professional support, he suggested having parents nurture reading culture within their children beginning from their young age, until they enter into school where teachers should enrich the culture through setting up reading clubs in schools. He also suggested cultural centers, the media, theater and cinemas to contribute their own role in enriching reading culture. Mentioning how theaters have started a platform for discussing newly released books, he believes that such platforms can be augmented to ameliorate reading culture.
In terms of financial support, the suggestion focused on printing press and of course investors to contribute their part, as they are in a position to contribute hugely to this cause. As per Dr. Mohammed such concerted and multifaceted effort amounts to creating a generation that is well aware of its identity, country and inner capability.
One thing Dr. Mohammed talked about was how setting up book clubs in schools can contribute to improve the reading culture in schools, and country. This is the idea the second panelist Hasabu Workneh, Director of School Improvement Directorate at the Ministry of Education focused on.
He argued that school clubs are big tools to strengthen reading culture, and they are working on them with that in mind. Hasabu further argued that due to regular school's tight nature it is impossible to bring comprehensive transformation through regular schooling alone, and this is where school clubs come in as they have a role in supporting regular schools achieve that goal. Not only that.
School clubs can also serve as a platform for students to marketalize their skills and knowledge due to their student-based approach (rather than teacher-centered approach) nature. Hasabu explained how the clubs provide the platform for the students to change into action what they have learned from regular school due to its peer learning and participative nature.
And this same nature of the clubs is what led Hasabbu to argue they have and can play a pivotal role to contribute to the betterment of reading culture in schools and in the country.
In book clubs, students will be able to share their love for books and model positive reading behavior to ignite the passion for books within young students. The director also managed to add how book clubs in schools can also provide the opportunity to encourage students to read more, connect passionate readers, and how it also gives the opportunity for students to practice public speaking and respectful discussion while also serving them as a place they feel valued and knowledgeable. Hasabu pointed out that there are works done in book clubs (school clubs in general) in this regard.
In addition to strengthening school (book) clubs, the Director also suggested for a coordination to be reinforced between various sectoral organizations so that the works done by each can come together and bring an effective outcome.
On the occasion, it was underscored that not only the reading culture in the young generation is diminishing, but also their participation in the international letter writing competition is decreasing from time to time.
Depicting his life long relation to reading, author Hailemelekot Mewa'el stressed on how [well-stacked and accessible] libraries play a pivotal and crucial role in transforming the lives and thinking of young impressionable mind. He shared life experience to pinpoint how an iron-clad discipline is important to enrich ones reading culture.
Generally, everyone concerned - from parents to teachers to education practitioners - should chip in to cultivate reading culture of the young.