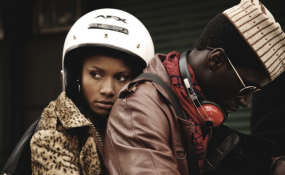 Photo: Restless City
By Robel Yohannes
J.R.R Tolkein's 'Lord of the Rings' is considered to be one of the most important literary achievement in the English language, and one of the most classic stories ever told. Middle-earth, the mythic fantasy land where the book's world of elves, wizards, monsters and magic, introduced an entirely new realm of fantasy that had never seen before.
Anyone who have read the book, or seen the movies inspired by the book, will see the strong links between the epic tale told and Ethiopia, especially similarity in place names in the book and Ethiopia - the fictional Gondor and the real-life Gondar, Rohan and Roha (former name of Lalibela), Harad and Harar, Barad-dûr and Bahir Dar, Shire and Shire endaselassie.
A recent book by Michael Muhling, 'The Real Middle-earth: Discovering the Origin of The Lord of the Rings', depicts Ethiopia as the inspiration of Tolkein's beloved book by going further than pointing out similar names, by identifying extensive and detailed connections between Middle-earth and Ethiopia.
The aim of this introductory part is not to talk about the merits of 'Lord of the Rings', but to point out how being part of a discussion in one of the greatest literary work, a film, or a pop culture phenomenon for that matter, can improve a country's tourism, its brand and cultural diplomacy. [
Considering the intensity of how Ethiopia is mentioned in traveler/tourist blog-verse in relation to 'Lord of the Rings', for instance, it is obvious that such mechanism would play a huge role in spiking the country's tourist inflow.
Though anecdotal in nature so far, there is a strong correlation made between the power of film (movies and series) and attractiveness of tourism destinations to create the phenomenon called film-induced tourism. This is not done knowingly to lure visitors or investors, but it can create powerful image that would create a pulling power for the viewers to travel to the film location and experience it in reality. The capacity of popular films and television series in attracting tourists, in the form of popularizing and promoting tourist destination, is agreed upon.
According to various data, the movie 'Braveheart' has brought 300 percent increase year after its release to Wallace monument in Scotland, while movies like 'Mission Impossible 2' and 'Troy' have brought in 200 percent and 73 percent increase in tourism of Australia and Turkey respectively. Lord of the Rings' has contributed to the economy of New Zealand, the country where the film was filmed at.
As a result to such developing phenomenon, film induced tourism is now gaining traction in the academia world and the tourism sector, and inviting in-depth study. And according to Gezahegn Abate, Public and International Affairs Director at the Ministry of Tourism and Culture, Ethiopia's government also recognizes this.
Gezahegn said that in parallel to having a cultural policy, film policy is prepared and is awaiting ratification from Council of Ministers, where if the ratification is to come, then it will be put to work. The Director also mentioned that the film industry is a big promotion platform, and should play a role.
Given the competitiveness of the globalization era, there have to be new and unorthodox avenues to attract tourists these days, and film induced or pop-culture driven tourism represent those means of reaching the audience.
Also for him, the potential role film plays is not only contained in attracting tourists by depicting the good image of the country, but it also can play a pivotal role in bringing out the untapped part of the country's culture, historical heritage and fascinating landscape.
All in all, film induced tourism provide huge opportunity for countries like Ethiopia that have amazing tourism potential, but lacks the media infrastructure to get what it has out there to the world.
In general, a film or pop-culture induced tourism that is managed and carried out by local policy has even more tremendous potential. It is, however, a specific marketing niche that needs to be understood. Only by investing the necessary resources as well as establishing sustainable strategies can Ethiopia profit from it in the long run.
Nurturing and supporting local talent, providing big incentives to foreign film production so that they are attracted to film their projects here and organizing a reputable annual international film festival is one way to go as well.