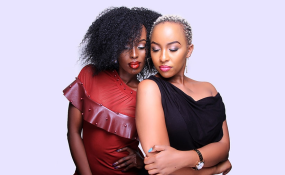 Photo: New Times
After four eventful years in the local music industry, girl duo Charly and Nina are preparing for what music pundits say will be the biggest music album launch in 2017.
2017 is a year that has seen the duo enjoy unprecedented local and regional fame, and will cap it with the launch of their maiden album in Kigali on December 1.
The ten-track album is titled Imbaraga, which is Kinyarwanda translation for power or strength. The album is a compilation of both new songs, and some of the group's earlier favourites like Indoro, featuring Big Fizzo, and Owoma, featuring Ugandan singer Geosteady.
"We want you to come and experience this baby that you have been supporting for the last four years on December 1," Nina urged the fans.
The artistes chose the album title Imbaraga as a symbol to motivate and also show that women can do it.
"When you look at our music industry, there's a big difference when it comes to the number of males compared to females. So we wanted to show these young talented females that we can make it."
Through the album, the duo will also seek to demonstrate their musical versatility:
For critics who say the girls sing more about love, there is a surprise on the album. "We have other songs that talk about the strength of a woman, positivity and some other stuff. So we wanted to just show our fans that we can sing about something else apart from love," Nina explained.
At the moment, the girls have scaled down on concerts, as they prepare for December 1.
The album launch, explains Charly, "will be like the beginning of a new chapter in our lives and in our music career. We will be going for even more collaborations after this first album so fans should expect more collabos with artistes from different countries on the second album."
After the grand launch, the duo will then embark on a countrywide album tour that is expected to take them to Butare, Musanze, Rubavu, and Rwamagana or Kabarondo.
"I think the first stop will be Musanze because that's where she (Charly) comes from. A lot of people know her there, and her family lives there too," said Nina playfully.
The album will come as the fruit of four years of an incident-free working relationship between the two. Nina attributes the duo's longevity to hard work, patience, and a good work ethic:
"By good work ethic I'm talking about the sleepless nights, about the sacrifices," she explained.
"We actually struggle to sleep at night because most of our work is at night so even when we're not working, it's really hard to sleep at night. I think it's about the sacrifice because everything has a price. If that's the price we have to pay for this journey, we don't have any problem."
While other girl groups fall apart over cat fights and petty rivalries, Charly and Nina seem ready to go the distance;
"Why should we fight? Let me tell you one thing; life is already so hard to even be fighting. It's so hard to make it in this music and be on top ... it's really hard out there, so why should we make it even harder by fighting? And what would we be fighting about?" Nina wonders, adding:
"We struggled so much to be where we are; I was in a band and she was in Guma Guma, and I joined her in Guma Guma and that part was already hard enough. We joined this music industry together as a duo and we had to fight to be where we are and I think those fights were enough."
Charly chips in;
"Another thing is we're grown up. When we have a problem we just sit and talk about it, and move on. At the end of the day I know that she wants the best for me, and I want the best for her as well."