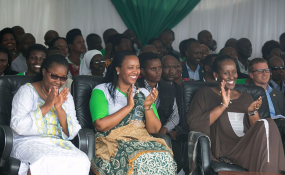 Photo: New Times
By Athan Tashobya
The First Lady, Mrs Jeannette Kagame, has urged government leaders to take family promotion and health as part of governance programmes in order to sustain future aspirations.
While officiating at the launch of a two-month Integrated Governance and Family Promotion Campaign in Kirehe District, yesterday, Mrs Kagame observed that despite efforts already made to promote decent family practices, it is imperative to make good governance and family promotion "part of our daily lives."
The event brought together different government officials, development partners as well as thousands of Kirehe residents and those from neighbouring areas.
"The Rwanda we want is a transformed country where we see notable changes in people's lives. It is, therefore, very important that we take into account every aspect of our people's lives in a broader perspective," the First Lady said.
"Programmes on family promotion, governance and health are complementary for inclusive development. That's how Rwanda's leadership want them to be."
The five weeks drive is dedicated to a number of activities including: health awareness campaign (Heath Week), gender equality and reproductive health education programmes, in addition to governance and family promotion sensitisation.
Gender and Family Promotion minister Esperance Nyirasafari noted that such a campaign would help find solutions to complex issues affecting families.
Minister Nyirasafari said similar previous campaigns led to the construction of 40 early childhood development centres across the country, while 13 girls who dropped out of school were enrolled into vocational training colleges and offered startup capital.
Up to 12,632 couples, who were not formally married were encouraged to formalise their marital status.
Meanwhile, the Health Week targets to extend family planning services to over 25,000 women, in addition to offering free measles and Rubella vaccinations, according to the Ministry of Health.
The First Lady urged parents against abdicating child upbringing to government, but rather take first responsibility in ensuring that youngsters get proper feeding alongside other basic necessities to allow them to grow in full capacities.
"Let's find time to talk about our children's education, let's provide them with all they need to grow and study well," she said.
Mrs Kagame also challenged the youth to be cautious of their lives and make positive choices, for they may represent what they would become in future.
She also witnessed "Umuhango wo kworozanya" where beneficiaries of Girinka donated cows to their neighbours.
Girinka is a government scheme under which the poor receive cows.
One UN Rwanda representative Fode Ndiaye commended the government's role in fostering socio-economic transformation of rural women, emphasising their role in not only providing for their families but also contributing to the communal and global food security-since the majority are farmers.