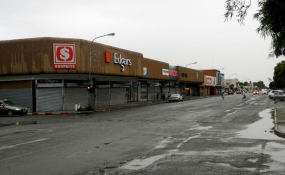 Photo: Christiaan Cloete/Wikipedia
His single bed in their one bedroom shack is empty. His mother weeps while staring at his framed photo.
It is little more than 24 hours since Joseph Spencer Tshukudu, 15, had woken up in Lichtenburg in the North West and accompanied his father, Willem Motlhoki, 41, to the tyre garage where he works.
He had danced and played around on the road before bidding his father farewell.
"Aah papa, I will see you later," Joseph had said.
But just as he was about to leave, his mother, Lillian Tshukudu, 45, called him back and insisted he put on his jacket.
There was no way that Lillian could have known that hours later, a gunman would open fire on a group of protesters, killing her only child. The alleged gunman, a 46-year-old man has since handed himself over to police.
"I last heard [my son's] voice yesterday (Tuesday) when he was with his father. I think he was saying, 'Goodbye, mama'. He will never come back," said Lillian, who struggled to hold back tears.
Speaking to News24, she said she had been sitting outside her house when she received the news that her only child had been killed.
"His friend came to tell me what happened. That is when I heard that he was shot in the eye," she said.
"I think my child was helping out [redirecting cars due to protests] ... I couldn't even sleep last night (Tuesday)," she said, adding that Joseph was not part of the protest.
"I wish he was here with me. I wish he was here to talk nice things with me - like saying 'Mama, please give me food' and I would give him food like other children. But now my child is no longer here. What am I going to do now?"
Joseph's pictures hang on the wall in the room he shared with his mother.
His single bed, shaky and unstable, is covered with an orange cloth.
"He was my only child that God gave me and he took him away," she said as her sister comforted her.
Some of the other family members, who had been sitting under a tree outside the house, also broke down.
"What am I going to do now? What am I going to do? I will never hear his voice again," she said.
Across the road from the family's home is a soccer field. The dusty roads to their home are lined with rocks and bushes.
She said Joseph, who left school in Grade 7, wanted to be a soccer player but she couldn't afford to pay his school fees.
"He loved soccer so much he even received a certificate from school. He was going to take care of me," she said.
Sitting on Joseph's single bed, his father Motlhoki said he received the news from his sister-in-law, less than two hours after he had parted from his son.
At 07:00 Joseph walked him to work but his father had instructed him not to join the protests in the area.
"I couldn't believe it; I couldn't believe this happened to him," he said.
Motlhoki's biggest worry now is how he is going to bury his son.
"I don't even have policies because I lost my job but now I got a new job. So when it's like this, how do we handle things?"
He claimed that his son was shot by someone in the community whom he knew.
"He is someone who likes a gun. He works while holding a gun. Where am I going to find my child now while he has his children at home?"
Brigadier Sabata Mokgwabone said the alleged gunman handed himself over at about 22:00 on Tuesday evening.
He said Joseph was killed along the Boikhutso Road, when a man who was travelling in a white car, got out of his vehicle and opened fire on the group of protesters.
He is expected to appear in the town's Magistrate's Court on Thursday.
He is charged with murder and two counts of attempted murder.
Joseph will be buried on Saturday, October 21.
Source: News24