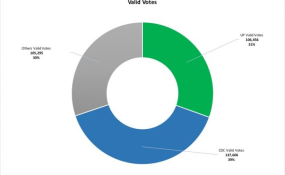 Photo: Liberian Observer
By Henry Karmo
Monrovia — The Liberia Elections Early Warning and Response Group (LEEWARG) and its partners, are cautioning political parties and supporters to remain calm as the results are being announced and avoid speculations.
In the group in a statement read by Ambassador Tunde O. Ajisomo they also called on supporters of political parties to avoid early celebration and look up to the NEC for the official results as announcing unofficial results has the potential to ignite unnecessary tensions during this critical period of it nascent democracy.
LEEWARG notes that in spite of some isolated cases such as the late arrival of voting materials and commencement of polls, congested polling centers, poor understanding of some poll workers of the process among others; the voting was generally peaceful.
"Liberia has entered into a very crucial phase of the electoral process, which is the counting, collating, verification and announcement of the results.
"We therefore encourage all political parties and the general public to exercise restraint and wait patiently for the declaration of the official results by NEC. LEEWARG also encourages all party supporters and the entire citizenry to remain calm while waiting on the NEC to execute its constitutional mandate.
"Let us continue to consolidate our democracy by respecting the legal, institutional, and administrative frameworks governing our electoral process."
The Liberia Elections Early Warning and Response Group (LEEWARG) and its partners, appreciate the roles played by the Liberian citizens, National Elections Commission, Political Parties, the media, joint security and other national stakeholders, ECOWAS, AU and other International Partners as the country went through the voting process on 10th October, 2017.