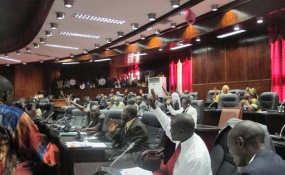 Photo: Liberian Legislature
Monrovia — The 54th Legislature is poised to see several new faces as many incumbents have been shown the exit door by the electorates.
Report By Lennart Dodoo, This email address is being protected from spambots. You need JavaScript enabled to view it.
Official results are yet to be released by the National Elections Commission but candidates in the legislative race already know their fate, while the presidential race is too close to call.
In Margibi County for example, only a Representative Ben Fofana retained his seat while Zayzay Ballah, Steven Kaifia, Roland Cooper have all been replaced.
Bill Corneh, Lester Paye, Goerge Mulbah and Tokpah J. Mulbah are all on their way out of the Bong County Legislative Caucus.
Ten of the 17 lawmakers in Montserrado County have been exited, according to the provisional results.
Gabriel Smith, Robertson Siaway and Byron Brown all lost their seats in Grand Bassa County.
This paper gathered that Cllr. J. Fonati Koffa, head of the Special Presidential Task Force, is one of the new faces joining the legislature from Grand Kru County. He conquered Representative Numene Batekwa of District 2.
Liberia's National Legislature has often been branded as rubber stamp legislature and not doing much to attend to the plights of constituents they represent.
Being the first branch of government with oversight responsibilities, the legislature has often come under public attack for signing concession contracts that are not in the interest of Liberians.
Former Speaker of the House, J. Alex Tyler for example, is currently on trial for allegedly using his position at the time to effect changes in the Public Procurement Concession Commission (PPCC) laws in order to pave way for the awarding of the Wologizi concession area to Sable Mining. The deal was uncovered by Global Witness.
In September, Nimba County Senior Senator, Prince Y. Johnson told FrontPageAfrica that President Ellen Johnson had direct influence over Legislative Branch of government -a move that tend to hinder that branch of Government from functioning independently.
"There is no one who becomes Pro Temp or Speaker without the President's involvement.
She has to lobby the colleagues to make sure her agenda go through, so we are not independent in the Legislature. I tell you, if I control your belly, it means, I am controlling you," said Senator Johnson.
He further revealed that he blames himself and his colleagues in the 53rd National legislature for not exercising their oversights and being robust because they make allocations and pass the budget while the Executive authorizes the expenditure.
"We have oversight but if we were properly exercising our oversight, some of the blunders we see happening around here won't be happening. Like for example, Senator Oscar Cooper who was exercising his oversight and discovered millions had disappeared from the Ministry of Public Works under Minister Gyudee Moore, and for fear of being linked to it, the Executive wrote the Senate Pro Temp to have this man removed from his committee, which was a direct interference on the part of the Executive."
"I called the Pro Temp when I returned from ECOWAS Parliament and told him it was not the reason we elected him," Senator Johnson said.
"If the three branches of government had their own financial autonomy, it won't be a problem, but our money is with the Executive. When we enacted a law for a financial autonomy to be put into hand bill, the president vetoed the bill, and what we should have done was to override the veto, but we did not, as to why it did not happened, I do not understand my colleagues anymore.
The three separate branches are supposed to be coordinating without interference from either branch, so I do not see why a tough talking Senator should be relieved of his duty because the Executive interfered."
While FrontPage Africa could not get the provisional listing from all counties, below are provisional results gathered from some polling places in various counties:
MONTSERRADO COUNTY
Unofficial Results coming from Montserrado County Representative Election:
D#17: Hanson Kiazolu - UP replacing - William Varney Dakel of the CDC
D#16: Dickson Wlayee Siebo - CDC replacing eat I eat Hon. Edward Forh
D#15: Hon. Adolf Akwe Lawrence - CDC retained
D#14: Hon. A Vamuyan Conneh - CDC retained
D#13: Hon. Saah Ebola Hero Joseph - CDC retained D#12: Mr. George Beyan Samah - Independent Candidate - replacing Hon. Richmond Anderson
D#11: Mr. Richard Koon - UP - replacing Hon. Gabriel Nyekan - CDC
D#10: Mr. Yekeh Kolubah - replacing Hon. Julius Berian formerly of CDC
D#9: Hon. Munah Pelham-Youngblood- CDC retained;
D#8: Hon. Acarious Moses Gray - CDC retained
D#7: Hon. Solomon George - CDC retained
D#6: Rev. Samuel Enders - replacing Hon. Edwin Snowe, who took double promotion in Bomi over Hon. S. Gayah Karmo;
D#5: Hon. Thomas Fallah - CDC retained
D#4: Mr. Momo B. Kamara - Independent Candidate replacing Hon. Hon. Henry Fahnbulleh
D#3: Hon. C. B. Bashell - replacing Hon. Bill Tehway of CDC
D#2: Mr. Jimmy Smith - CDC replacing Hon. Sekou Kanneh - UP
D#1: Mr. Desire S. Satia - replacing Hon. Josephine George Francis
GRAND BASSA COUNTY
D#1 Hans Barchue (Ind) - Retained
D#2: Mary Karwo (UP) - Retained
D#3: Matthew Joe (CDC) replacing Gabriel Smith (LP)
D#4: Benson Willie (Ind) - replacing Byron Brown
D#5: Thomas A. Goshua (UP) - replacing Robertson Siaway (UPP)
BONG COUNTY
D#1: Junior Hills (ALP) - Replacing Tokpah J. Mulbah (PUP)
D#2: Prince Moye (UP) - Retained
D#3: Marvin Cole (CDC) - Replacing Geroge Mulbah (PUP)
D#4: Robert Wonba (UP) - Replacing Lester Paye (ANC)
D#5: Edward Karfiah (PUP) - Retained
D#6: Woima Briggs Mensah (Ind.) - Replacing Bill Corneh (CDC)
D#7: Pending
NIMBA COUNTY
D#1: Jeremiah Koung (MDR) - Retained
D#2: Prince O.S. Tokpa (PUP) - Retained
D#3: Pending
D#4: Pending
D#5: Pending
D#6: Torwon Glaykehn (PUP) - Replacing Ricks Toweh (LP)
D#7: Pending
D#8: Pending
D#9: Johnson Gwiakolo (CDC) - Replacing
MARGIBI COUNTY
D#1: Pidelorsa Tarponweh (CDC) - Replacing Roland Opee Cooper (PUP)
D#2: Ivar K. Jones (Ind.) - Replacing Ballah Zayzay (UP)
D#3: Ellen Attoh (LPP) - Replacing Steven S. Kaifi (PUP)
D#4: Ben Fofana (UP) - Retained
D#5: Pending
BOMI COUNTY
D#1: Edwin Snowe (UP) - Replacing Garyah Karmo (LTP)
D#2: Manah Bishop Johnson (CDC) - Replacing Alex Tyler
D#3 Haja Fata Siryon (PUP) - Retained
GRAND GEDEH COUNTY
D#1 (Tien District) - Zoe E. Pennue - Retained
D#2 - Alex Chester Grant (CDC) - Retained
D# 3 - George Borley (UPP) - Replacing Morais Waylee
EDITOR'S NOTE: These results are not official but provisional results gathered from various polling places around the country.