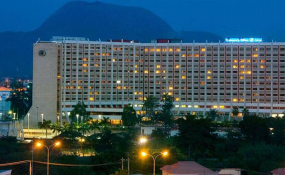 Photo: Daily Trust
By Misairi Thembo Kahungu
The Pearl of Africa Hotel (formerly Kampala Hilton Hotel) in Nakasero, Kampala has been inaugurated.
President Yoweri Museveni on Tuesday inaugurated the five-star luxury hotel housed in a 20 storey building.
The multi-million dollar hotel, boasting of 253 bed rooms, 42 suites, a premium sports facility, two tennis courts, two squash courts and a basketball court among other relaxation sites.
The hotel sits on a 14-acre piece of land which was previously occupied by the then Uganda Television, now Uganda Broadcasting Corporation.
Mr Museveni praised investors for contributing to the growth of Uganda's tourism and service sector.
He said investors have contributed to a growing private sector which is providing jobs to Ugandans.
"Many of the rich countries are rich because of a strong private sector. But here in Africa including Uganda, people look at the private sector as an area being favoured by respective governments," Mr Museveni said.
He vowed to sack and prosecute civil servants who frustrate investors by soliciting bribes from them.
"We have to make those public servants an endangered species in Uganda. Let the investors report whoever asks for a bribe and you will see what we shall do to them," he said.
The Chairman of Aya Brothers Group, the company that built the hotel, Mr Hamid Muhammed said their establishment has already employed 2,000 Ugandans and would recruit more as the business grows.