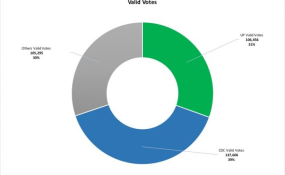 Photo: Liberian Observer
By Henry Karmo
Monrovia — The National Election Commission (NEC) says it has quarantined voting materials from precinct No. 33019, containing four polling stations in District 4, Nimba County.
Voting for that polling center has been rescheduled for a later date.
According to NEC Chairman Cllr. Jerome Korkoya, the decision was taken following a disruption of the voting process at the precinct, allegedly incited by a local politician Mr. Rufus Zerlee, a candidate for the House of Representatives on the ticket of the Coalition for Liberia Progress (CLP).
"The voting was compromised in the precinct according to the Information we have received. The National Elections Commission has launched an inquiry and made a decision to quarantine the materials from the Precinct," Cllr. Korkoya said.
Cllr. Korkoya further disclosed that counting at polling places continued throughout the night. According to him, the process is being observed by international observers and agents of political parties.
"The electoral process is not, however, over yet. Voting and counting have ended and results sheets posted at polling places. The results are now being transported to tally centers ready for aggregation," Korkoya said.
He called on all political parties and others key players in the electoral process to allow the NEC to perform its constitutional duty of announcing results as it is the only institution clothed with the authority to announce official results.
The NEC chairman has also termed as unfortunate and has apologized to voters for the large queues and longer than expected processing times in polling places. There were some incidents of late opening of polling places. These, however, have not led to any major obstacle and voters have voted according to the law.