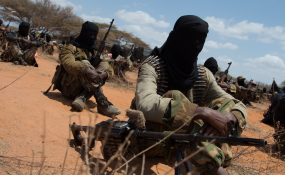 Photo: Hamza Mohamed
Maputo — The Mozambican police on Tuesday announced the arrests of 52 people in connection with the armed islamist attack against the town of Mocimboa da Praia, in the northern province of Cabo Delgado, last Thursday.
At a Maputo press briefing, the spokesperson for the General Command of the police, Inacio Dina, said that, despite the large number of arrests, only four firearms and 100 rounds of ammunition had been seized.
He put the death toll from the clashes, which lasted throughout Thursday and into Friday, at 17 - two police officers, 14 members of the attacking group, and one community leader murdered by the raiders.
All those detained are Mozambicans from Cabo Delgado, Dina said. He insisted that the group had no connection with the Somali terrorist organisation Al-Shabaab. Yet journalists have found that this is the name they are known by in Mocimboa da Praia, although alternative names are "Swahili-Sunah" or "Al-Sunah".
Certainly the aims of the attackers - such as imposition of sharia law, banning of the sale of alcohol, ban on secular monuments and Christian crosses - are common to islamic extremist groups across the world.
Dina said that some of those captured, when interrogated by the police, claimed they had joined the group in exchange for money. Matters for investigation included "who promised this money, and where the guns came from".
As for complaints by local residents of Mocimboa da Praia that, well before the attack, they had seized, and handed over to the police, suspicious people whom they believed were fomenting unrest, Dina said this was true.
But he claimed the subsequent release of these individuals, with no action taken against them, was not the fault of the police.
"The police are the point of entry", said Dina, "but are not the beginning and end of criminal proceedings". When the suspects were handed to the police, the police drew up charges of incitement to violence. It was not the police who then released them - the role of the police "is limited", he said, "and we want that to be clear".
He was thus implying that it was a court, or the public prosecutor's office which had ordered the releases.