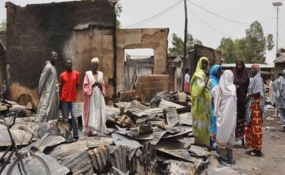 Photo: This Day
By Paul Obi and Michael Olugbode
Abuja and Maiduguri — The Nigerian Army wednesday said military troops fighting insurgency in the North-east have evacuated one soldier killed during a gun battle with Boko Haram terrorists in Gwoza, Borno State.
The troops also neutralised the terrorists, recovering several sophisticated weapons from the sect.
The Director of Army Public Relations, Brig. Gen. Sani Usman, explained that the "troops of 192 Task Force Battalion of 26 Task Force Brigade of Operation Lafiya Dole displayed their fighting prowess to dislodge terrorists onslaught by successfully repelling Boko Haram terrorists attack at their outpost from Yamteke axis of Gwoza Local Government, Borno State.
"Several other Boko Haram terrorists escaped with gunshot wounds. Sadly, one soldier died during the attack and his remains has been evacuated.
"The troops utilising heavy fire power and act of bravery dealt a decisive blow on the Boko Haram terrorists who attempted to infiltrate their outpost with improvised explosive vehicles and persons borne improvised explosive devices."
Usman stated that "in the ensuing fire fight, troops inflicted heavy casualty on the terrorists, repelled the attack on their location, neutralised 15 Boko Haram terrorists, captured one Panhard Vehicule Blinde Leger, large caches of various ammunitions, destroyed one Toyota Hilux pick up mounted with Anti Aircraft and one gun truck.
"The troops remain determined in their task of safeguarding communities and providing a conducive environment for humanitarian agencies to do their work.
"In this regard, the populace are encouraged to always provide vital information on suspected activities of Boko Haram terrorists to the security agencies in their respective localities," Usman stressed.
Meanwhile, the military yesterday said it had rescued a total of 230 persons from Boko Haram in the last 40 days.
As part of the success of its counter-insurgency operations in the Operation Lafiya Dole in the North-east, it said from September 1, 2017 till date, "troops on clearance operations and fighting patrols intercepted suspected escapees and in some cases rescued quite a number of civilians from Boko Haram terrorist elements."
Addressing a press conference, the Head of Operation Lafiya Dole, Major General Ibrahim Attahiru, said: "A total of 230 were rescued during the period. On September 1, 2017, troops rescued a group of six persons, a man, his wife and four children from Sabsawa, villages. They were profiled and handed over to IDP camp authorities in Bama for further administration.
He said: "Also, on September 11, 2017, own troops on fighting patrol rescued one Mallam Muhammed Abba-Gana Madami and two children who were abducted by suspected Boko Haram terrorists following a robbery incident along Bazam and Kulia general areas of Magumeri Local Government Area. During the operation, troops recovered one AK 47, two AK 47 rifle magazines, 18 rounds of 7.62mm (Special) and a pick-up truck.
"Similarly, on September 12, 2017, troops on fighting patrol rescued two women and seven children from Bula - Kuri and Zala villages. They were screened by a combination of military and other security agents and thereafter handed over to officials of the IDP camp in Bama."
He added that: "On September 13, 2017, own troops intercepted 14 refugees along Gamboru/ Fotokol border while returning from Zengeyaih Village in Cameroon Republic. Preliminary investigation revealed that they were indigenes of Amchaka and Kufe villages in Kala Balge Local Government Area. They were subsequently handed over to officials of Ngala IDP Camp for necessary administration.
"In the same vein, troops intercepted Yagaji Ba Maina aged 25 and Modu Ba Fannami aged 11 who claimed they escaped from Boko Haram hideout at Talala Village in Damboa Local Government Area. They are currently undergoing investigation to ascertain their claims."
Attahiru said: "On September 12, 2017, 14 returnees who allegedly were returning from Cameroun comprising three women and 11 children arrived Pulka. The women and children were screened, documented and handed over to the IDP camp officials. Also, on September 18, 2017, 60 persons who had allegedly escaped from Boko Haram hideouts in Chongolo and Burari villages close to Kolofata in Cameroun were intercepted by own troops. They were screened, documented and handed over to officials of IDP camp in Bama.
"Similarly, another group of six men, 10 women and nine children from Dalari Village in Magumeri LGA were rescued by troops on fighting patrol."
He revealed : "Additionally, troops of the Cameroonian Defence Force handed over refugees comprising 19 men, 12 women and 35 children of Nigeria nationality to troops at Banki. The refugees were from Kirawa, Darel Jamel, Kodo and Deneski villages of Bama LGA. They were subsequently screened and handed over to officials of Bama IDP Camp for further management.
"Also, on September 23, 2017, troops further intercepted 5 refugees returning from Jigage Village in Cameroun. They were screened and identified to be indigenes of Kilimeri Village in Bama LGA," he added