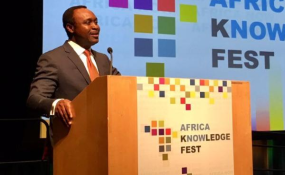 Photo: The Citizen
By Alawi Masare
Dar es Salaam — Economic growth in Sub-Saharan Africa is recovering at a modest pace, and is projected to pick up to 2.4 per cent in 2017 from 1.3 per cent in 2016, according to the new Africa's Pulse, a bi-annual analysis of the state of African economies conducted by the World Bank.
However, the economic recovery which is supported by an increase in commodity prices is below the April forecast of 2.6 per cent.
The report states that growth is projected to be firm in Tanzania on a rebound in investment growth.
It also warns that while remaining robust, the growth may soften in Côte d'Ivoire - reflecting the effects of lower cocoa prices - and in Tanzania - partly due to the under-execution of fiscal plans. "Improving global conditions, including rising energy and metals prices and increased capital inflows, have helped support the recovery in regional growth," stated the report which was launched yesterday.
The rebound is led by the region's largest economies. In the second quarter of this year, Nigeria pulled out of a five-quarter recession and South Africa emerged from two consecutive quarters of negative growth.
However, the report warns that the pace of the recovery remains sluggish and will be insufficient to lift per capita income in 2017.
In non-resource intensive countries such as Ethiopia and Senegal, growth remains broadly stable supported by infrastructure investments and increased crop production.
In metal exporting countries, an increase in output and investment in the mining sector amid rising metals prices has enabled a rebound in activity. Headline inflation slowed across the region in 2017 amid stable exchange rates and slowing food price inflation due to higher food production.
The report indicates that fiscal deficits have narrowed, but continue to be high, as fiscal adjustment measures remain partial. As a result, government debt remains elevated.
"Most countries do not have significant wiggle room when it comes to having enough fiscal space to cope with economic volatility. It is imperative that countries adopt appropriate fiscal policies and structural measures now to strengthen economic resilience, boost productivity, increase investment, and promote economic diversification," notes Albert Zeufack, World Bank Chief Economist for Africa.