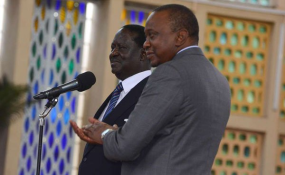 Photo: Jeff Angote/The Nation
Addis Ababa — African Union Commission Chairman Mr Moussa Faki Mahamat, has called on all stakeholders in Kenya's electoral process to exercise leadership during this "crucial period of Kenya's democracy."
In a statement issued on October 11, Mr Mahamat said he was closely following the situation in Kenya, including the decision by the National Super Alliance (Nasa) presidential candidate to withdraw from the October 26 repeat presidential poll.
Mr Mahamat added that the AU was ready to take any appropriate initiative to facilitate peaceful conclusion of the electoral process.
He also said the union had deployed an observer mission in Kenya since September to support the electoral process and assist towards its peaceful and successful conclusion.