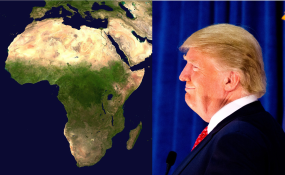 Photo: allAfrica/Wikimedia Commons
The election of Donald Trump as US president and the global rise of right-wing extremism are some of the factors influencing South Africa's brand perception.
This was among the things listed by Brand South Africa when it presented its annual report for 2016/17 to the portfolio committee on communications on Wednesday.
While the committee has been grappling with management issues with the entities in its portfolio - notably at the SABC and Media Development and Diversity Agency - in the past two weeks, this was not the case with Brand SA, which received a clean audit for the second year running.
Brand SA's board chairperson Khanyisile Kweyama, who also chaired the interim SABC board and is among the candidates recommended for the yet to be appointed new SABC board, said the country's brand had persevered.
"We believe Brand SA has ridden the storm where South Africa's brand has been under attack internationally and locally," she said.
Challenges
In its presentation Brand SA highlighted challenges that influenced perceptions of South Africa's brand in 2016/17. These include:
The economic transformation discourse, notably new initiatives aimed at land reform;
Challenges to social cohesion, such as racism and xenophobia;
Governance and government capability, for example, within the South African Social Security Agency and the SABC;
Continued low growth;
The US, UK and Australia's travel advisories against the country; and
Downgrades by ratings agencies to junk status.
Brand SA listed the following global challenges:
Increasing internationalisation of local/regional conflicts;
The outlook for emerging markets and South Africa's classification as an "underperformer";
Rising right-wing nationalism and protectionist sentiment in the developed markets of the Eurozone and North America;
Challenges to the reigning global governance system and the emergence of Asia, Africa and Latin America as high-growth markets;
Brexit; and
Donald Trump, whose views on multilateralism are likely to put a strain on north-south cooperation.
No analysis of local political situation
Brand SA CEO Dr Kingsley Makhubela said the organisation had done extensive research on right-wing extremism, which the business community found quite useful.
DA MP Veronica van Dyk said South Africa's performance on the World Economic Forum's index dropped 14 positions from 47 in 2016 to 61 in 2017.
She asked if Brand SA also did a study on the political situation in South Africa and how crime and corruption affect the country's brand.
Communications Minister Ayanda Dlodlo said there was a number of reasons for the country's drop on the WEF index, as Brand SA explained.
"Some are local reasons, some are international reasons."
Makhubela said the organisations hadn't done a detailed analysis of the South African political situation, but it was something Brand SA would consider.
The committee also heard that Brand SA aired a "well-received" advertisement for South Africa on CNN during Trump's inauguration.
Source: News24