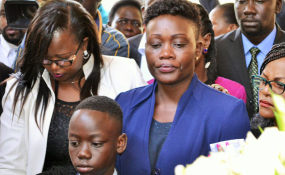 Photo: Moses Muoki/Capital FM
By Nelcon Odhiambo
The family of Chris Msando wants the government to speed up investigations into his murder.
Led by Mr Msando's mother, Maria Oloo Msando, the relatives of the slain IEBC technology manager also want the government to bring to justice people who eliminated him.
'HONEST'
"It is time the government broke its silence on the circumstances surrounding Chris' death and delivered justice to the young honest man who died while serving this country," said Mrs Musando.
Speaking at her rural home in Lifunga, Ugenya sub-County, Mrs Msando said she was yet to come to terms with the sudden death of her son two months ago.
She described her son as a "caring young man" and questioned the motives of his murders.
Mr Msando, who at the time of his death was IEBC's deputy ICT director, was found dead in bushes in Kikuyu, Kiambu County.
SUSPECT
His body had visible wounds and an autopsy revealed that he was strangled.
He was killed in the run-up to August 8 General Election and his relatives and opposition leaders believe he was eliminated to allow rigging.
However, a suspect arrested over the murder that shocked the country was later released for lack of evidence.
Mrs Msando's mother said Chris' death had robbed her of " a dear person" in her life, making it difficult for her to eat and sleep.
She said has also been unable to continue with her regular dose of medication, whose bill was being footed by her son.
MEMORIES
"My son was a very disciplined young man. I do not think he would have committed any serious offence warranting death," she said.
"IEBC should have sacked or arrested him for engaging on any malpractices. It is high time they told us what really happened."
Mrs Msando said the spirit of her son would rest only after they (the family) are shown the persons who killed him.
She recounted the last moments she shared with him while she was admitted to Matter Hospital in Nairobi.
FBI
"I am encountering sleepless nights and cannot eat because I am having Chris' memories," she said.
"We will do nothing to the murderers but we will simply ask them why they killed him."
Similar sentiments were shared by the deceased's elder sister Alice Msando, who called on the government to allow the Federal Bureau of investigations and Scotland Yard to unravel the mystery behind his death.
"It is very sad that no politician or the government is talking about Chris' death two months on yet he was a civil servant whose job was important in ensuring there was free and fair polls," she said.
"We want the government to allow other investigative agencies to help with the investigations."