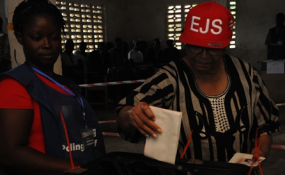 Photo: Liberia Government
As thousands of Liberian citizens turned out at the polls on Tuesday October 10, 2017 to elect new leaders, the political leader of the Alternative National Congress (ANC) has expressed optimism that Liberians are ready for change due to the huge turnout by citizens at various voting precincts.
The level of excitement and turnout by electorates is as though they (voters) are resolved to bring on board new leaders who will steer the affairs of the country for the next six years, or to either maintain the ruling Unity Party in office for the next eighteen years.
"This is a wonderful day for Liberia because the Liberian people are exercising their right in order to bring about different regime. With this, I think Liberians will choose another breed of leaders."
Making the assertion to both local and international journalists on Tuesday October 10, 2017 at the St. Peter's Lutheran High School in Sinkor were he cast his ballot, the ANC standard bearer promised to rightfully run the country's budget with his level of experience as chairman on the Board of Coca-Cola Bottling Company in order to put Liberia on the map with other develop nations in the world.
"I'm happy to be exercising my franchise and I look forward to favorite results," he added. Cummings said he believes that the outcome of the 2017 elections will be successful; with emphasis that Liberians are ready to change the country for the benefit of all.
The ANC political leader used the occasion to express that he is confident to win the elections with the level of work carried out during the campaign process in the country.
Despite high level of confidence reposed in the process, Cummings said would accept any results coming out of the 2017 elections because the citizens he wants to lead have decided and their decision have to be respected by all.