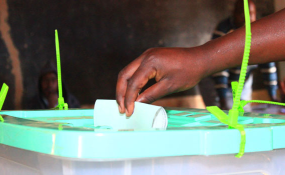 Photo: Capital FM
A black top or cover of a ballot box sealed with orange clip believed to be part of elections materials sent to outposts outside of Monrovia was Wednesday discovered in Ganta, Nimba County, few hours after voting was closed in the October 10, 2017 presidential and legislative elections.
According to our reporter in Ganta, the top or cover with orange seal and numbered PRE065731 was discovered at the Ganta cemetery along the road leading to Saclepea between the St Lawrence Catholic school and the AB Roberts Funeral Home and the Blagaye's Town junctions.
A motorcyclist reportedly discovered the election material and immediately took same to Radio Kergheamahn, a local radio station in Ganta.
Staff at the radio station dilly-dallied announcing the discovery of the cover, reportedly to avoid some sort of apprehension amongst citizens in a county already tense following a hectic voting process.
Tension erupted in District #4 at one of the polling places, leading to the disruption of voting there. The incident was a result of inciting allegedly by one Mr. Rufus Zerlee, a candidate for the House of Representatives on the ticket of the Coalition for Liberia's Progress, CLP.
The National Election Commission (NEC) immediately launched investigation and guaranteed the materials at the precinct, with the hope of rescheduling polling there.
But as soon the material was received, the radio station contacted the police detail commander in Ganta. He promised to return the cover of the ballot box to the Election Magistrate for Upper Nimba, Princeston Monbia.
However, Magistrate Monbia couldn't be reached for comments on circumstances surrounding the 'discovered cover,' if it had come to his attention any missing cover for any of the ballot boxes used in the voting process.
Residents of Ganta are concerned about the discovery of the ballot box cover, with many wondering whether it was deliberately and inadvertently dropped in the vicinity.
Elections materials of such are very sensitive and the discovery of a cover in such location raises major concerns especially in such critical period in the country's election history when everyone is bitter with each other.
To date, there are no reports of "foul play" during and after the voting process, except for the general issue of slowness of the process due to names and photos misplacement or misapplication.
The discovery of the cover come in the wake of report that one of four ballot boxes sent to District 4, Nimba County was missing.
Chairman of the National Elections Commission (NEC) Wednesday confirmed the incident.
"There was also an incident at one precinct in District #4, Nimba County," Chairman Kokorya told a news conference.
"The elections materials for this precinct, #33019, containing four stations, were delivered to and signed for by Electoral Supervisor, Prince Bollie, but for some reason(s) only three polling places were set up and not four as should have been the case."