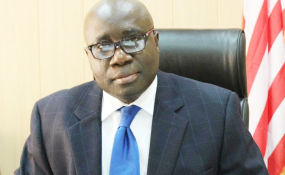 Photo: Liberian Observer
Vote counting are continuing across Liberia following presidential and legislative elections on Tuesday, October 10, 2017 in which 20 presidential and several dozens of representative candidates participated.
The Chairman of the National Elections Commission (NEC), Jerome Kokoyah told a news conference Wednesday in Monrovia that provisional results will be released today.
He said the results are being tallied at the local election magisterial offices in various counties.
On Tuesday, October 10, 2017, thousands of Liberians across the country trooped to various polling precincts to elect the country's next President and 73 representatives of the House of Representatives.
According to our correspondents, Liberians, as early as 5: am, gathered at various precincts to cast their votes for candidates of their choice.
Reports from across the country say the process was relatively peaceful in most areas.
However, in some areas including Buchanan, Grand Bassa County, voting was said to be delayed due to the slow arrival of voting materials.
In some communities, including Peace Island in Gardnersville, voters reportedly clashed with security officers. The voters were said to be impatient having waited for several hours to vote.
In District #11, Montserrado County specifically the Bardnesville area at the New Life Ministries Polling Center, there were several lapses on the part of electoral staff. Ballot papers and boxes were misdirected to other polling centers, which affected the timely resumption of the voting process.
Our reporters said those isolated cases where electoral materials were delayed, were later brought under control and the voters were allowed to vote peacefully.
It was established that at some precincts in Monrovia and its environs, some voters with valid voter registration cards names were missing from the final voter registration roll, while some could not find their pictures.
However, in some instances, some were allowed to vote, while others were denied.
It was observed that NEC polling workers were very slow, thus causing uneasiness among the voters. Some of the voters, who waited for hours, left without voting. They however, promised to do so when there is run-off.
Due to the slow pace in the process particularly in Montserrado County, voting in some areas continued into the night hours, something that made several voters to leave. The queues in some areas were also disorganized, which also contributed to the delay in the process.