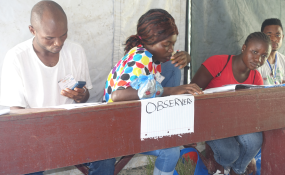 Photo: Boakai Fofana/AllAfrica
The NEWS has gathered that Tuesday's polls were characterized by some irregularities including the late start of voting and failure of some election workers to show-up for work in Nimba County.
Although the elections went ahead peacefully, with a high turnout across the county, several persons were disenfranchised when election workers turned them away, because their names were not recorded in the voter registry.
The disenfranchised voters were amongst voters who formed long queues during the early morning hours to vote for their representatives and president of their choice.
In separate interviews, the affected voters expressed disappointment and condemned officials of the electoral body for omitting their names from the voter roll.
One of those, who claimed her name was not included in the voter roll, alleged that she took advantage of the exhibition period, "but I am surprised that my name is not in their book."
Martha Whey, 70, expressed disappointment that she could not be allowed to vote for the president and representative of her choice.
"This is bad. I spent more than one hour on the line only to be told that I can't vote," Madam Whey said in an apparent angry tone.
Other issues captured by The NEWS are the late start of voting at several precincts across Nimba County. Election workers blamed it on the late arrival of voting materials at the voting centers by election supervisors.
George Marcago, a presiding officer at a voter center in a town outside Ganta City, disclosed that they started by 10:00 A.M. because Supervisor Michael Dede didn't bring the voting materials on time.