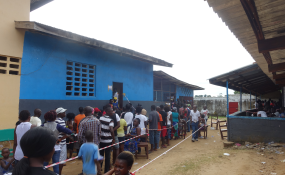 Photo: Boakai Fofana/AllAfrica
By N. Dweh Nimley
Several voters in Bong County got frustrated with the election process, thus leaving them with no alternative but to abandon the process of voting.
Although, the process which began at 8:00 A.M. was peaceful and witnessed a huge turnout; but some voters had to leave the voting precinct for their respective homes.
The voters were frustrated that their names were not on the final voter roll, having stood in queues for several hours.
The presiding officer at the 'Sunday Market', the biggest polling precinct in Bong County. took several hours to have the issue resolved, after some voters had left the area.
Political party observers at the center also accused polling staff of interfering by telling voters who to vote for, an accusation that was denied by the Presiding Officer.
Also, ballot papers were seen stamped prior to voters approaching the verification table, something that almost brought a disruption to the exercise, but officers of the Liberia National Police including the INCHR and other observers were able to resolve the situation.
The Sunday Market has over 8 polling places, while Dolokene Gboveh High School has 7 polling places.