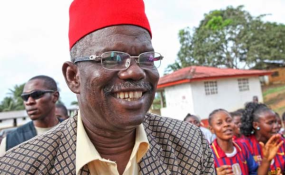 Photo: The New Dawn
Partial unofficial results coming from tallies at different polling centers across Nimba County seem to be uncapping a swelling support for the Movement for Democracy and Reconstruction (MDR) of Nimba County Senator Prince Yormie Johnson, or PYJ, a son of the county.
Since 2005, the people of Nimba have not stopped showing loyalty to Mr. Johnson whom they still see as their "political godfather." He led the warring faction that captured and killed then President Samuel K. Doe during whose reign the Nimba County was subject to political maltreatment and misconduct.
According to our reporter in the county, Sen. Johnson's MDR is making headways as far unofficial results from polling centers are concerned, thus confirming Nimbaians' loyalty to the onetime rebel leader.
The Unity Party of Vice President Joseph Boakai, Coalition for Democratic Change of Senator George Weah and the Alternative National Congress of Alexander Cummings and Liberty Party of Cllr. Charles Brumskine are also battling for place in the rich vote county.
Nimba, Montserrado and Lofa Counties top the list of more voters according to NEC's records, followed by Bong, Margibi and Grand Bassa Counties.
The vote cast in his favor is seen as a form of endorsement for him. According to some citizens who called on the local radio stations, it is impossible for any politician to beat their political leader in his backyard.
"No one is allowed to beat our godfather in his backyard," one caller is quoted as saying when he called on a local radio. Though MDR is making headways, UP supporters are said to be knocking their chests for the decisions they have made to for VP Boakai, saying "We have made our marks battling the MDR of Johnson in his own county."
The vote is seen as a repeat of electoral supremacy between the governing UP and Senator Prince Johnson. In 2011, the UP and the defunct National Union for Democratic Progress (NUDP) of Prince Johnson battled it out for the votes.
Historically, the Unity Party has taken it root in Nimba County, dating back in 1985 when it backed a son of the county, Jackson Fiah Doe for the presidency during the elections with slain President Samuel Doe.
Besides the UP, major challengers to the MDR in Nimba County are the CDC and ANC especially in the Mano dominant region in the county. MDR is far ahead according to the unofficial results from the Gio or Dan dominant region that is officially considered as the birthday place of
Senator Johnson.
"If those unofficial results can recast into the National Elections Commission (NEC) official results, the MDR and ANC will be key decision makers in the possible runoff elections between the UP and CDC," our reporter in the county said.
Representative Elections
At the same time, Nimba County Electoral District#1 Representative, Jeremiah Koung could retain his position as far as unofficial results from precinct centers across the district.
Rep. Koung is battling Margareth Korkpor, the wife of Chief Justice Francis Saye Korkpor, Sam Browne, Lawrence Sua, Othello Deshied, Amos Suah, among others.
In Nimba District #8, incumbent Larry P. Younquoi is reportedly in the lead as far as unofficial results from few precinct centers across the district are concerned.
He is challenged by Melvin Garpeh, a UL lecturer, former Representative Jackson Fiindor, Rufus Mandein, Benjamin Zumba, Victor Doolakeh Taryor, former Administrator of Ganta Hospital among others.
In Nimba County electoral District #2, journalist Nyah G. Flomo, formerly of Radio Kergheamahn is reportedly ahead of incumbent Prince O. S. Tokpah based on the preliminary unofficial results.
Nyah Flomo, a son of Garr Clan is the only candidate from his clan based on the consensus of the citizens from the clan. In a related development, Roger Domah, the principal of Ganta United Methodist High School is said to be having upper hand in district #7 currently represented by Worlea Saywah Dunah who is not a participant in these elections.