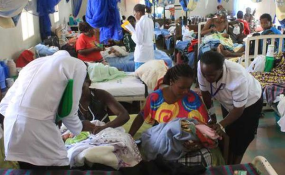 Photo: Joseph Kanyi/Daily Nation
By Barnabas Bii and Winnie Atieno
Mental health units in Kenya have been among the hardest hit by the ongoing nurses' strike.
As the country marked World Mental Health Day on Tuesday, families of mentally-ill people pleaded with care-givers to resume duty.
The worst-hit hospitals include Moi Teaching and Referral Hospital in Eldoret and Port Reitz District Hospital Mental Health and Substance Abuse Department in Mombasa.
The facility in Eldoret, which serves about 80 patients -- double the capacity -- is overwhelmed.
MINIMAL CARE
Not much is going on at the department due to the nurses' strike.
This is after nurses who are expected to offer medical care to mentally-ill patients joined the general strike, leaving patients with minimal care and treatment.
The hospital has two psychiatrists and four more from Moi University, three clinical officers and five nurses in the mental health unit.
"We get 60-70 outpatients in a week who need mental care, which is higher than the normal 30 to 40 patients. Some patients relapse on failing to get medication and treatment at county hospitals," said Dr Asha Mwangi, who is in charge of the unit.
SERVICES
Since the launch of the mental health policy last year, the unit has been training more professionals in psychiatry to enhance services.
But implementation of the policy is being slowed down by the nurses' strike. The same scenario is replicated across different counties.
Patients in Mombasa County have resorted to private clinics some of which are owned by the striking nurses.
This is after services at Port Reitz - the second largest mental health institution in Kenya after Mathari Mental Hospital in Nairobi - ground to a halt.
ONE PSYCHIATRIST
The hospital has only one psychiatrist, who also attends to patients battling drug abuse at Coast Provincial General Hospital.
It also has less than 20 health personnel (nurses and clinical officers) against a maximum 40 in-patients and about 60 out-patients.
The hospital serves Kilifi, Lamu, Kwale, Tana River, Taita-Taveta, Mombasa and other neighbouring counties.
Relatives of mentally-ill patients said they were seeking treatment at private health facilities.
DETEROTIATING CONDITIONS
"It is very expensive but it is better than allowing their conditions to deteriorate due to lack of treatment. The only service my brother is missing is counselling," said one relative.
The source, who sought anonymity, added: "My brother suffers from depression and has battled drug addiction. A nurse normally gives him antipsychotic medication when he becomes aggressive."
In June, more than 30 patients admitted at the Port Reitz facility were forcibly discharged when nurses withdrew their services.
A month after that, a mentally-ill patient from Kilifi committed suicide at the hospital using his belt.