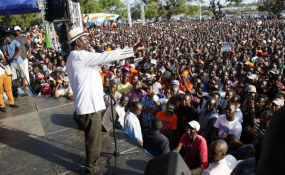 Photo: Laban Walloga/The Nation
analysis
Kenyan presidential challenger Raila Odinga has plunged an already tense country into further uncertainty by withdrawing from the repeat presidential elections on 26 October. By PETER FABRICIUS.
Odinga's decision to withdraw from a contest which he said would not be free and fair leaves President Uhuru Kenyatta as the only candidate. The decision has sparked renewed fears of violence, especially after Odinga's coalition NASA called for street protests on Wednesday against Kenyatta's rejection of demands for reforms to the electoral system.
The Independent Electoral and Boundaries Commission (IEBC) declared Kenyatta the winner of the 8 August presidential election. But Odinga disputed the results, claiming electoral fraud. On 1 September the Supreme Court annulled the presidential election, citing "illegalities and irregularities" in the IEBC's tallying of votes and transmission of results.
The IEBC then announced a new election would be held on 16 October but later postponed this to 26 October to allow more time for preparation.
Odinga has been engaged in a running dispute with Kenyatta and the IEBC since then, demanding the firing of several IEBC officials allegedly complicit in the mishandling of the 8 August poll and also insisting on changes to election procedures. He also wants a...