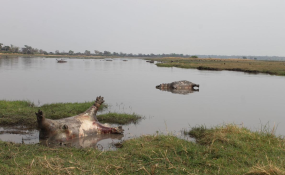 Photo: New Era
THE ministry of environment appears to be overwhelmed by the large number of hippos that died of suspected anthrax in the Bwabwata National Park.
According to environment minister Pohamba Shifeta, only three hippo carcasses out of the 109 had been disposed of by Tuesday.
Shifeta told the National Assembly on Tuesday, that the destruction of carcasses had started since high mortality cases of the mammals were observed during the period 1 to 7 October 2017.
Anthrax is a very infectious disease that affects both wild and domestic herbivores like cattle, sheep, goats, pigs, elephants, kudus, as well as antelopes.
Due to the rapid spread of the disease, most animals which contract anthrax are found dead and may ooze dark blood from the mouth, nostrils and/or anus. Anthrax carcasses normally bloat and decompose rapidly.
Shifeta said it was assumed that the low level of the Kavango River had led to the anthrax bacteria, which naturally occur in the environment and become active.
"Due to the nature of the anthrax disease, local communities have been warned against touching any carcass or consuming any meat from wildlife found dead, as a precautionary measure," he said.
Handling such meat or eating meat from such an animal puts people at serious risk of contracting anthrax.
Symptoms of anthrax in people include fever which may be accompanied by chills or night sweats; flu-like symptoms like coughing, which include chest discomfort, shortness of breath, fatigue, muscle aches, sore throats, followed by difficulty swallowing, headaches, nausea, loss of appetite, abdominal distress, vomiting, or diarrhoea.
Another symptom is a sore, especially on the face, arms or hands that starts as a raised bump and develops into a painless ulcer with a black area in the centre.
According to the environment ministry, the national population of hippos is estimated at just over 3 000 and buffaloes over 7 000.
The hippos in Bwabwata West (a stretch of 24 kilometres of the Kavango River) increased from an estimated 384 in 2013 to 539 in 2017, the minister said.
Ministry of environment staff stumbled on 10 hippo carcasses during an unrelated operation on 1 October, which prompted the ministry to conduct aerial assessments.
After two aerial assessments were conducted, 109 hippopotami and 20 buffalo carcasses were counted.
A third mortality count will be conducted by boat today, Shifeta said. Meanwhile deputy director for the north-eastern regions in the Ministry of Environment and Tourism, Apollinaris Kanyinga said they expect the number of hippos dying in the park to rise.
Kanyinga said the numbers which stood at 52 last Wednesday had quickly risen to 109 over the weekend. He said an assessment will be carried out by park wardens to find out if hippos are still dying, although it will be difficult since the previous assessment was done by helicopter.
"Although an assessment is still to be carried out, the number of deaths of these animals is definitely going to increase," he said.
The ministry dispatched a state veterinarian to the park to carry out tests to determine the cause of death.