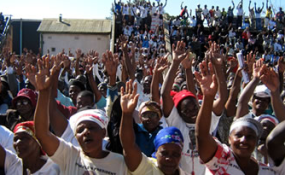 Photo: MDC
By Zvamaida Murwira
The Zimbabwe Electoral Commission has registered nearly 40 000 prospective voters since the Biometric Voter Registration (BVR) started at 63 district offices countrywide. BVR registration started on September 18 at the district offices and the figure is expected to rise significantly following a blitz the electoral management body started on Tuesday. ZEC chairperson Justice Rita Makarau disclosed this during an interface meeting with Members of Parliament to brief them on the process.
"This relates to the static centres that ZEC has conducted from September 18, 2017 to yesterday," said Justice Makarau. She said only accredited observers were allowed to ask for information from ZEC officials during the process. Some Members of Parliament had asked if as legislators or candidates they could walk into the registration centres to request information such as the number of people that had registered
"As an MP you cannot get information, but as an accredited observer, yes, you can get it. You cannot talk of candidates as of now because as of now we have no candidates, we are simply registering voters," said Justice Makarau. Justice Makarau said village heads could not be used as commissioners of oath because at law they were not recognised for that purpose.
"Only those who are legally recognised as such would be required to do that. Only those people, by virtue of their offices would be required to perform the role of a commissioner of oaths. I know that as soon as lawyers are registered they are recognised as such," she said. Justice Makarau said they would continue monitoring the situation to see if there was need to increase the number of registration centres in a given ward or area.
Legislators had complained that there were fewer registration centres in some areas particularly in Harare and Bulawayo, something that delayed the process. Some also wanted to know if it was permissible to go and register while wearing party regalia. "We are currently registering about 104 people per kit in Harare, which is the largest number so far. We are watching the situation closely to see if there is additional need to increase the kits.
"This is just voter registration and it does not recognise political colour. You can be wearing green, red but not your political party regalia," said Justice Makarau. She said ZEC would produce a provisional voters roll to allow people to inspect their details before compiling the final roll. She added that the registration slips being issued after registration were merely to allow prospective voters to inspect the voters roll and would not be used for voting.