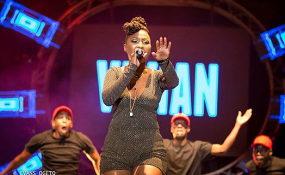 Photo: Daily Nation
By Hilary Kimuyu
Musician Vivian Wambui hit the limelight after she collaborated with Starehe MP Charles Njagua aka Jaguar for the song Dream in 2015.
But her life was never rosy as people might think.
In a candid confession on Facebook, the Teren Teren singer said her life was a struggle before she released the hit song.
"At that time I used to earn Sh4,000 from my Karaoke gig, after deducting the rent, transport, I would survive on less than 500 for a whole month," Vivian wrote.
COULDN'T AFFORD CLOTHING
"I couldn't afford good clothing worth public appearances. I vividly remember there is a concert I was invited to perform but the promoter refused me to get on stage due to my dressing."
According to Vivian, she was told she looked ghetto which broke her heart.
In her post, she thanks one Tamina for donating clothes to her and fellow musician DK Kwenye Beat for sharing his food.
"Sometimes I slept hungry. Yes, I was a celebrity but sleeping hungry. My songs were playing everywhere but deep inside I was in agony," she adds.
NO SEATS
She also had no seats in her house
The musician, who was earlier this year proposed to live on air by her manager Sam West, says she now lives in God's abundance.
"A good big house, a good car and enough for my fill!"
Vivian has done collabos with mega music star's like Dr Jose Chameleone, Redsan, among others.