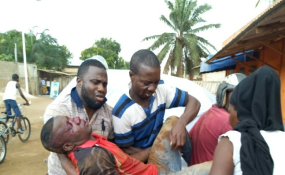 Photo: Farida Nabourema‏/twitter
analysis
By Socrates Mbamalu
As the people of Togo resume protests this week, we are reminded of people power, and that despite state violence and repression, freedom is non negotiable. The Togolese people are an inspiration to other African countries facing dictatorship and oppression.
Togo presents an interesting case of people power, a social movement which invokes the authority of citizens. Thousands of citizens have marched through the streets of Togo's over the past few weeks, demanding the resignation of Faure Gnassingbé, who has been in power since 2005. When Togolese citizens took to the streets in unity of spirit, they had one goal; ending the Gnassingbé era, and the army could not stop them. Not even the internet shut down, a tactic many African heads of state have employed in the past, and continue to use as a tool of oppression.
For the Togolese people, the message is clear, "50 years was too long." Gnassingbé Eyadéma came to power through a coup in 1967. By the time of his death in 2005 aged 69, he had a continental record; he was the longest serving president, ruling for 38 years. Unlike his peers who've lived till the 90s, his stay in power was cut short earlier than probably expected. He died at 69, and he would have probably continued had death not cut short his rule. His son, Faure Gnassingbé took over and has been in power for 12 years, a continuation of his father's legacy.
With a population of 7.6 million people, (a country of 57,000 square kilometres), Togolese people have been protesting against the Gnassingbé dynasty. For a country like Togo, the protests serve as an inspiration to other countries such as Uganda where President Yoweri Kaguta Museveni plans to use the parliament to remove the 75 years presidential age limit. A similar move was made in Togo in 2005, when it lowered the minimum age for president from 45 to 35 in order for Gnassingbé to ascend into power.
Whether the Togolese protests would serve as another "African Spring", an inspiration for countries such as Zimbabwe, Cameroon and a host of other countries with lifelong presidents remains to be seen. There is however no denying the inspirational appetite for transparency, good governance and democracy from the African people.
The Togolese people are asserting the maxim that people have the power to make political change even when it seems impossible. With continuous protests, shutting down the country, and pushing on despite killings from the army, the Togolese people have continued showing a great spirit that should be emulated.