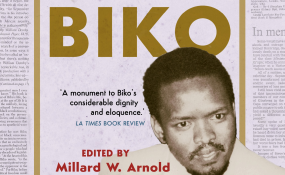 Photo: Pan Macmillan
book listing
'Steve spoke his mind in that court. He could display his intellectual superiority so superbly, and there were times when we - as the audience - would wonder whether Steve himself was the judge and the judge the accused ...' - ANDILE M-AFRIKA
What comes first to mind when one thinks of political trials in South Africa are the Rivonia Trial of 1956-61 and the Treason Trial of 1963-64. Rarely, if ever, is the 1976 SASO/BPC trial mentioned in the same breath and yet it was perhaps the most political trial of all.
The defendants, all members of the South African Students Organisation, or the Black People's Convention, were in the dock for having the temerity to think; to have opinions; to envisage a more just and humane society. It was a trial about ideas, but as it unfolded it became a trial of the entire philosophy of Black Consciousness and those who championed its cause.
On 2 May 1976, senior counsel for the defence in the trial of nine black activists in Pretoria called to the witness stand Stephen Bantu Biko.
Although Biko was known to the authorities, and indeed was serving a banning order, not much about the man was known by anyone outside of his colleagues and the Black Consciousness Movement.
That was about to change with his appearance as a witness in the SASO/BPC case. He entered the courtroom known to some, but after his four-day testimony he left as a celebrity known to all.
The Editor, MILLARD W. ARNOLD is the Senior Adviser to Bowman Gilfillan, Managing Partner of Masakata Consulting and Chief Executive Officer of the South African Business Schools Association. Arnold has also served as the U.S. Deputy Assistant Secretary of State for Human Rights and Humanitarian Affairs.
Arnold was a Professor of law at Touro University and Adjunct Professor at Georgetown University Law School. He was a journalist for the Washington Post newspaper and a Senior Fellow at Carnegie Endowment for International Peace. Arnold holds a BA in Political Science and a Jurist Doctorate from the University of Notre Dame in Indiana.
Author(s): Millard Arnold
EAN: 9781770105584
eBook EAN: 9781770105591
Pages: 400
Format: Trade Paperback