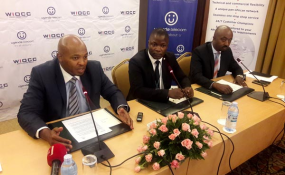 Photo: The Observer
By Jonathan Adengo
Kampala — Uganda Telecom (UTL) has signed a partnership with the West Indian Ocean Company (WIOCC) to facilitate delivery of more data capacity and faster speeds in Uganda.
The partnership was announced during a media briefing held at the Kampala Serena Hotel in Kampala on Tuesday, during which administrators of UTL said Ugandans would be able to get faster Internet at a greatly low cost.
The announcement comes at a time when government has put together measures to turn around the telecom which enjoys the widest data footprint in Uganda.
Recently, government advised its agencies to utilise UTL's extensive and reliable data network to reduce their costs and also help in the recovery of the firm.
Mr Otaremwa Otuhumurize, a consultant with UTL, said the ICT challenge in Uganda today is extending affordable connectivity to the people that require it.
"The partnership with WIOCC will greatly assist us in meeting this challenge, boosting our ability to deliver high-capacity mobile broadband via our microwave radio, copper and fibre-optic network infrastructure," he said.
He said the partnership is a stamp that demonstrates UTL's capacity to deliver data services to the whole country at higher speeds and lower costs.
According to Mr James Wekesa, WIOCC chief commercial officer, the consortium is jointly owned by 14 major African telecommunications companies including UTL, which was among the main champions of the formation of WIOCC in 2008.
"UTL's investment in the company is enabling it to purchase 7.5 Gigabits per second (Gbps) of Internet connectivity on very competitive commercial terms, allowing the TelCo to pass on cost-efficiencies to consumers in Ugandan," he said.
This partnership between the two companies will boost internet capacity in the short-term and ensure availability of further capacity upgrades in tandem with increases in demand.
Mr Otaremwa said working with WIOCC in this way gives UTL the ability to implement significant improvements in price, quality and quantity of internet in the country.
WIOCC provides a range of core wholesale services to carriers, internet service providers (ISPs), overthe-top players (OTTs) and Content Providers throughout Africa.
WIOCC's network is a unique asset integrating more than 55,000km of terrestrial infrastructure with its strategic investments in more than 60,000 km of submarine cable assets.
These include the East Africa Submarine System (EASSy), Europe-India Gateway (EIG) and West Africa Cable System, as well as capacity on other submarine cable systems linking Africa's coastline to Europe and the rest of the world. WIOCC is the largest investor in EASSy with a shareholding of 28 per cent.
Mr Wekesa said WIOCC is supporting UTL on its transmission backhaul between Mombasa and Kampala.
"WIOCC also provides UTL with quick restoration options through alternative routes in case of any interruption in traffic on its fully-redundant connectivity. For UTL, this means being able to deliver reliable and affordable Internet to the whole of Uganda - for Government agencies, corporates, SMEs and homes - through both wireline - e.g. fibre and copper; and wireless technologies," Mr Wekesa added.
COVERAGE
Internet reach. Operating exclusively as a wholesaler, WIOCC offers affordable, reliable connectivity to more than 550 locations across 30 African countries - utilising more than 55,000km of terrestrial fibre and 60,000km of submarine fibre-optic cable. WIOCC's international network reach currently extends to 100 cities in 29 countries in Europe, and more than 700 cities in 70 countries globally.