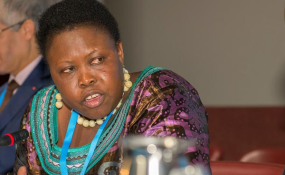 Photo: Daily Monitor
By Anthony Wesaka
Kampala — As Uganda joined the rest of the world to mark the International Day of the girl child on Wednesday, the recent decision by government to halt the release of the guidelines on contraceptives to be used by girls as young as 10 years old, has been sharply criticised.
On September 28, this year, State minister for Primary Healthcare, Ms Joyce Moriku, declined to launch the guidelines on National Guidelines and Standards for Sexual and Reproductive Health and Rights. The minister reasoned that the Health ministry did not own the guidelines and that they needed to consult other stakeholders first.
The rejected guidelines were, among others, intended to offer contraceptives to children as young as 10 years.
But on Wednesday, the health experts and the coalition of civil society groups criticised government on grounds that all reproductive Health officials in the ministry were consulted before the guidelines were finalised but the government jumped out at the last moment.
The health experts and civil society members further explained that the impact of halting the launch of those guidelines could lead to withholding information from teenagers that would have helped them to avoid unnecessary relationships, risky sexual behaviours, unwanted pregnancies, among other dangers.
According to the 2016 Uganda Demographic Health survey, 25 per cent of adolescent girls and young women aged between 15 and 19 are either pregnant or a mother, which percentage is one of the highest in the sub-Saharan Africa.
"Despite the catastrophic consequences of teen pregnancy, Ministry of Health has not only failed to invest in interventions that work, but is fixated on thwarting actions that drive life-saving services even further out of the hands of young women," a press statement by a coalition to stop maternal mortality due to unsafe abortion, reads in part.
The press statement further reads: "Experts pointed out that sexual activity among Ugandan teenage girls is an issue that the Ministry of Health refused to address with evidence-based responses. Instead, they have engaged in costly, protracted policy setting efforts only to denounce the outcomes that they themselves helped generate."
The executive director of Centre for Health, Human Rights and Development, Mr Moses Mulumba, said in the statement: "Ministry of Health should be ashamed. Instead of ensuring robust policy environment based on human rights and community needs, there is a policy desert. This must stop."
He added: "We have to address the reality Uganda girls are facing. These actions are making life for Ugandans more dangerous by tying the hands of our policy makers and health workers. We need access to services based on science and evidence and that includes sexual and reproductive health services such as pre-exposure prophylaxis for HIV prevention, contraception and more for young people who are sexually active."
The coalition members also said this was not the first time that government declines to launch a health programme.
They pointed out the earlier ban on comprehensive sexuality education announced in 2016 as well as the withdraw of the standards and guidelines on prevention of maternal mortality due to unsafe abortion in 2015.