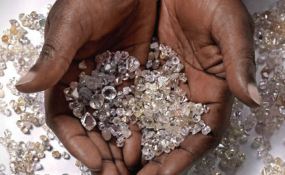 Photo: The Herald
By Cyril Zenda
The High Court has foiled an attempt by an Israeli diamond firm to wind down its operations in Zimbabwe without settling its financial obligations.
High Court judge, Justice Owen Tagu, granted an application by a local businessman, Fadi Ali Khatoun, and his two companies to bar Fuss Diamond Limited from repatriating cash from Zimbabwe without settling its debts.
The Israeli firm applied for liquidation and the joint liquidators have tried to take the diamond dealer's money out of Zimbabwe without settling its local debts.
Khatoun managed to convince the court that the purported provisional liquidation of Fuss Diamond in Israel was a ploy by the company to flee from Zimbabwe, where it owes him and his companies close to $2 million.
In 2013, Fuss Diamond appointed Khatoun as its local representative for purposes of "negotiating, execution of a diamond purchase and sale contract, receipt of diamonds and monies in connection therewith".
Khatoun arranged for Fuss Diamond to buy diamonds from Marange Resources (Pvt) Limited and got the Israeli firm to make a deposit of $5 million.
Between July 2013 and April 2016, Marange Diamonds and later ZCDC released diamond gems and money to Khatoun worth about $3 774 000 for Fuss Diamonds, leaving a payable balance of $1 1226 000.
During the course of the transactions, Fuss Diamond engaged one of Khatoun's firms, Minexus Mineral Resources (Pvt) Limited as its agent in various mining concessions and interests which it entered into and was involved in activities in the Kadoma area where it incurred various contractual and statutory debts and liabilities amounting to $1 689 800.
Fuss Diamond failed to settle these debts to Khatoun and his two companies, resulting in the issue going to court.
It is at this stage that Fuss Diamond applied for provisional liquidation in Israel and the joint liquidators wrote to the ZCDC and the Minister of Mines and Mining Developments, Walter Chidhakwa, demanding that the $1,2 million that had not been spent from the deposit of $5 million be released straight to them, not via Khatoun, the local agent.
Khatoun saw this as a ploy by Fuss Diamond to exist Zimbabwe.
"The applicants (Khatoun and his companies) are now alleging that the third respondent (Fuss Diamonds) has now appointed the first and second respondents (advocates Amit Pines and Uri Gil respectively) as its provisional liquidators for purposes of seeking repatriation of the amounts in issue to the Republic of Israel against the laws of Zimbabwe," read the court papers.
"They suspect that the provisional liquidation of third respondent in Israel is a fraud well-calculated to evade debts there and internationally and is meant to hoodwink international creditors into believing that any monies owed by fourth respondent (ZCDC) in any country cannot be received by anyone other than the appointed provisional liquidators."
Tagu granted the application by Khatoun and his firms that the money owed to Fuss Diamonds by the ZCDC be paid through them since they are the recognised local agents of the Israeli firm. He ruled that the provisional liquidation order granted in Israel was not enforceable in Zimbabwe because it was not a final order.
"The first, second and third applicants as interested parties were not advised and such liquidation is vitiated and is contrary to principles of natural justice," Tagu said.
"What we have been told is that there is a provision order for liquidation. Whether the third respondent will ultimately be liquidated or not is a story to be told on another day. For this reason, it would be undesirable, illegal and an affront to public policy of Zimbabwe to recognise and enforce a provisional judgment of an internationally competent court whose finality is not yet known. Had it been said that the third respondent had been finally liquidated in Israel and there was a final judgment to that effect, my position would have been a different one.
newsdesk@fingaz.co.zw