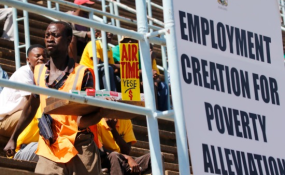 Photo: newzimbabwe
President Robert Mugabe must allow vendors to work without disturbances since he created them, Vendors Initiative for Social and Economic Transformation (VISET) chairperson Samuel Wadzanai has said.
The Zanu PF leader last weekend ordered that vendors must be removed from city centres to allow the smooth flow of human and vehicular traffic.
Police in Harare duly launched a blitz to clear the streets Thursday in a move condemned by the traders.
"It has always been VISET's position that forceful eviction of informal traders will not solve the current vending morass, where such eviction does not correspond to the allocation of alternative spaces in the designated sites," said Wadzanai in a statement ahead of the removals.
"Such a move is irrational, inhuman and barbaric apart from the fact that it runs contrary to the constitutional national objective which obliges the state and all its agencies to promote private initiatives of self-reliance and that which obliges it to remove the restrictions that prevent people from working or otherwise engaging in gainful economic activities."
He continued; "Let it be stated here, without fear or favour, that vendors are not going anywhere any time soon.
"We are in the streets not because we want to, but your administration's Machiavellian macroeconomic policies have brought us to this stage. There is nothing illegal about vending because you created it Mr. President."
"By the same token, if vending is illegal then your continued occupancy of the office of President of Zimbabwe is both illegal and a joke."
Wadzani went on to say that as street vendors provide valuable services to the urban population while trying to earn a livelihood, adding that it was the duty of the State to protect the right of this part of the population to earn a livelihood.
"VISET also implores the Harare City Council (HCC) to take full responsibility for its failure to provide adequate designated sites for these traders," he said.
"If anything, it will only exacerbate it, as was witnessed in the CBDs in 2015 where in most cases the operations resulted in ugly and bloody scenes and even unnecessary loss of life as a defence of a livelihood entails doing everything within one's powers."
He added, "VISET implores the HCC to do an assessment in respect of the consequences on the livelihoods of over 100 000 people and their dependents the evictions will cause.
"In keeping with our strategy of peaceful engagement, VISET will negotiate with the HCC with a view to finding a more human alternative to the intended evictions but in the event that such doesn't yield any positive results, the organisation will approach the courts."