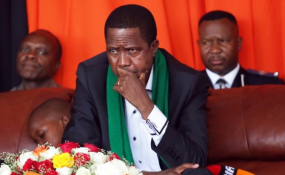 Photo: RFI
By Bwembya Mutale
A 49-year-old of Chingola on the Copperbelt Province has been arrested for allegedly defaming President Edgar Lungu.
Copperbelt Commissioner of Police Charity Katanga has indentified the suspected as Alex Mwale who was picked up by police in connection with a video which went viral on social media last week in which he stood in front of one of the recently procured fire tenders and allegedly called the President Edgar Lungu a criminal.
Katanga said the suspect who appeared in the video has been arrested for the offence of defamation of the President and has since been remanded in police custody awaiting court trail.
"We picked him up for the subject offense of defamation of the President and he is in custody, He will appear in court soon," She confirmed
Katanga said the suspect was captured on a video clip defaming the President by calling him a criminal and a thief.
In the video that went viral last week, Mwale charged that the fire tenders were not worth one million dollars.