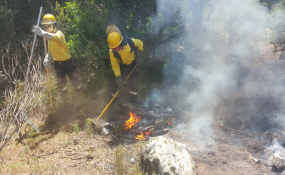 Photo: Working On Fire
The 12 Apostles Hotel and Spa has been forced to evacuate due to an encroaching wildfire that firefighters are struggling to get under control.
Deputy general manager Lukas Laubscher told News24 on Thursday that they were presently evacuating the building. "I can confirm that we are evacuating the hotel. We are very busy at the moment trying to make sure that everyone is safe," he said.Table Mountain National Park fire manager Phillip Prins told News24 that they were concentrating on the fire that's burning above the hotel."The fire is burning on two sides, around the hotel and in Camps Bay. At this stage, I'm not too sure what's happening in the Camps Bay area. The fire is surrounding the hotel so they have evacuated," he said.
Prins said the fire also burnt through the historic Muslim burial site which is on that part of the mountain.
"I don't know what damage has been caused at the site at this stage but definitely the fire has burned through that area," he said.
He said it's only the hotel that has been evacuated. "No residences have been evacuated."
The provincial traffic department's call centre could only confirm that Victoria Drive has been closed between Camps Bay and Hout Bay.
The fire on the mountain slopes in Camps Bay was sparked on Wednesday and was fanned by strong winds.Working on Fire, who is attempting to extinguish the blaze, wrote on its Facebook page in its latest update, "Another 2 volunteer firefighting crews are in the process of being deployed from VWS #Newlands tonight to assist partner SANParks - Table Mountain National Park. Firefighters from City of Cape Town Fire and Rescue Services, TMNP, NCC Environmental Services and Working on Fire have been battling the blaze since yesterday. The fire, being fanned by a very strong South Easter, has flared up again late this afternoon."It urged members of the public to avoid the area.
Source: News24