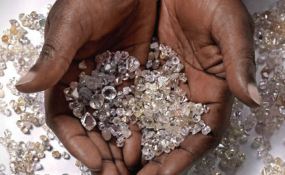 Photo: The Herald
By Anesu Kurebwaseka
A Mutare man believed to be a diamond dealer was robbed of US$17 000 in cash at knifepoint by four suspected panners, who lured him to the diamond fields of Marange on the pretext that they wanted to sell him a diamond. This emerged at the Mutare Magistrates' Court where two of the suspected robbers, Tonderai Gwama (21) and Trymore Makuwaza (30) were facing robbery charges.
The name of the diamond dealer was not indicated on State papers. Gwama and Makuwaza complained of being over detained in police cells upon their arrest when they initially appeared before magistrate Mr Innocent Bepura. The duo applied for their immediate release, arguing that the police's actions had infringed on their Constitutional rights. But the court ruled that the duo was not over detained, before remanding them in custody to October 26.
Prosecutor Mr Fletcher Karombe said that on Monday this week at around 4pm, Gwama and Makuwaza called the diamond dealer indicating that they were in possession of a piece of diamond, which they wanted to sell to him. Accusations are that they used Makuwaza's mobile phone to make the call. The duo and their two accomplices, who are still at large, asked the diamond dealer to meet them at a place near Mashukashuka Business Centre.
At around 5pm of the same day, the quartet met the diamond dealer at the agreed place and decided to do their transactions in the diamond dealer's commuter omnibus. Reports are that a few minutes after entering the diamond dealer's vehicle, one of the accused produced a knife and demanded cash from the diamond dealer. Further accusations are that the quartet produced a rope and tied the dealer to the seat, before searching for money and they found US$17 000 and two cellphones under the seat's arm rest, which they took. The diamond dealer later untied himself and fired two shots into the air, forcing the quartet to run in different directions Gwama was arrested and he implicated Makuwaza, who was picked up in Homepark, Marondera.