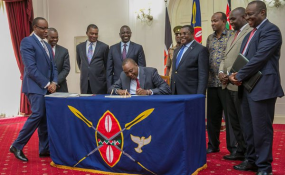 Photo: Daily Nation
By Patrick Lang'at
The electoral commission says preparations for repeat presidential election, slated for October 26, are on course.
The Independent Electoral and Boundaries Commission (IEBC) on Friday said printing of ballot papers would begin by the end of this week.
AL GHURAIR
The commission has already decided to have all the candidates who took part in the annulled August 8 poll in the fresh elections.
The ballot papers, IEBC commissioner Roselyne Akombe said, will be printed by Dubai-based Al Ghurair.
"We tried to go to the UNDP, both parties said no, and we were back to Al-Ghurair. So, as a commission, we need to make a decision that we think is in the best interest of the voter," Dr Akombe, who heads operations at the commission, said when she met election observers.
She said all technical operations were on course, with the commission having stalled on 10 things to right the wrongs in the annulled poll.
"If I were asked today whether the commission is ready the answer would be yes but the question is whether the environment and conditions are conducive for the commission to conduct a free, fair and credible election," she said.
SAFARICOM
At the same time, the commission has said it will stick to its partnership with leading telecommunications firm Safaricom in the transmission of results.
"To tell you that we will not use Safaricom, we would be lying. We do not have any other service provider in Kenya with a larger network coverage," she said.
The commission has resolved to have all its 40,883 kits to have a Safaricom sim card owing to its near-full coverage of the country.
However, Telkom and Airtel Kenya will still be involved, she said.
All constituency returning officers will be required to project real-time entry of results into the results transmission kits, and will be required to give a draft of the form to all agents and the media before printing an original to be signed by the official and the agents.
RESULTS
"We have vowed zero tolerance to non-compliance. That is why we have, for instance, dropped over 200 presiding officers who made errors in the previous election. We have also dropped some ROs that after vetting," said Dr Akombe.
On results transmission, Dr Akombe said the commission will not be rushed to announce the results.
"We have seven days to announce the results and we will take our time. We shall not be rushed. None of our returning officers will be rushed. They will make that announcement only after they have accurately verified all the results," she said.
In the August 8 poll, the commission announced the winner three days after close of polls.
At the same time, she said, the results transmission gadgets have been reconfigured to transmit both text and images simultaneously.
If that fails, Dr Akombe explained, "a complementary mechanism, full with a definition of what transmission means has been gazetted and will be used."