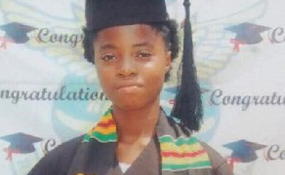 Photo: Supplied
By Kylie Kiunguyu
Ruth Ama Gyan-Darkwa a 13-year-old girl has been admitted to the Kwame Nkrumah University of Science and Technology, Ghana (KNUST); one of Ghana's most prestigious state universities; as the youngest freshwoman ever in Ghana. The child prodigy is pursuing a Bachelor of Science (BSc) degree in mathematics at 13 years of age, an impressive fete in an education system that requires approximately 15 years in school before going into tertiary education.
According to a report by The Chronicle, Ruth born on May 29, 2004 to Mr. and Mrs. Kwadwo Gyan-Darkwa, attended the Christ Our Hope International school for her basic education. She then attended Junior High at Abraham Lincoln International School, where she ended up taking (and passing) the Basic Education Certificate Examination (BECE) held at the Justice International School Asuafua, in the Ashanti Region. She then received admission into St. Louis Senior High at the tender age of 10, later completing her Senior High school studies at the age of 12.
INSPIRATIONAL-Meet 13-Year-Old Ruth Ama Gyan Darkwa the youngest university student in Ghana. She is pursuing a Bachelor of Science degree in Mathematics at KNUST. - Posted by Sankofa Radio on Friday, October 6, 2017
Interesting tidbits about the impressive teenager include that her father is a physics teacher at Prempeh College Senior High School and her elder sister Grace Gyan who also entered the university at a tender age to study Political Science is set to graduate from the same university at age 18.
Expected to graduate with the class of 2021, the young prodigy could have her bachelor's degree at the age of 17, following somewhat in her father's line of study and a whole year below her sisters graduating age.