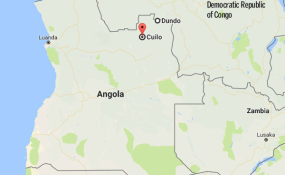 Photo: The East African
By Arnaldo Vieira
Seven passengers and crew died in a plane crash in Cuilo, a town in northeast Angola near the DR Congo border, a government official said Friday.
According to Mr Luís António Solo, head of Aero Accidents Investigation and Prevention Office (GPIAA), the Brazilian-built Embraer aircraft crashed shortly after take-off killing three crew members and four passengers.
"The plane left Kamakenzo airport in Dundo for Luanda at 4:58pm (1558 GMT) on Thursday. We lost contact shortly after take-off," he told a press briefing in the capital Luanda.
The flight, operated by Air Guicango, is thought to have crashed into Nacarumbo lake just south of Cuilo municipality.
Among the seven aboard were a Portuguese national and a South African.
The cause of the crash is still unknown but Mr Solo said the aircraft had recently suffered "malfunctions".
Two military helicopters were dispatched to the region to locate the wreckage and the victims' bodies.
Angola has a poor air safety record and all of the oil-rich African country's airlines are banned from operating within the European Union except for the flag-carrier TAAG.
-Additional reporting by AFP