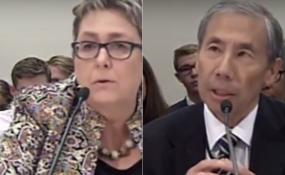 Photo: allafrica.com
By Kevin J. Kelley
Two State Department officials were thrown on the defensive as members of the US Congress denounced the Trump administration's proposed funding cuts for programmes in Africa.
The Republican chairman of a US House subcommittee on Africa joined his Democratic colleagues in criticising Mr Trump's intention to sharply reduce food aid and to scale back other initiatives benefiting sub-Saharan countries, including Kenya.
Donald Yamamoto, acting assistant secretary of state for Africa, and Cheryl L. Anderson, an acting administrator for Africa at the US Agency for International Development, told lawmakers at a subcommittee hearing that the austere Trump budget was a product of "trade-offs" and "tough choices."
DEFEND BUDGET
"I know you have to support this budget, and it must be very painful because it's just filled with contradictions," Democratic Congresswoman Karen Bass told Mr Yamamoto and Ms Anderson.
"This budget does not reflect your illustrious careers, and I'm sorry you have to be put in a position to defend it," Ms Bass added.
The California congresswoman was particularly scornful of the Trump administration's proposal to eliminate all funding for family-planning programmes in Africa.
Such a move will lead to an increase in abortions, Ms Bass predicted, noting that the Trump team strongly opposes abortion. The congresswoman also warned that limiting access to contraception will heighten maternal death rates, which, she said, are partly a product of women's inability to space the intervals between pregnancies.
"What's the reason for that?" Ms Bass asked the officials in regard to the proposed elimination of family planning funding. "What's the logic?"
"Policy decision," Ms Anderson of USAid replied.
SECURITY
Earlier in the hearing, Mr Yamamoto and Ms Anderson had sought to justify President Trump's Africa-related budget cuts as efforts to enhance the cost-effectiveness of US programmes on the continent. Two officials also insisted that the proposed budget will not imperil peace-making and security in conflict-stricken African countries.
Congresswoman Bass pointed out, however, that "the budget is cutting peacekeeping and development, so to me that's a direct contradiction."
Congressman Chris Smith, the Republican chair of the Africa subcommittee, vowed that Congress will block the White House's attempts to cut funding for nutrition and agriculture initiatives such as the Obama administration's Feed the Future programme.
Mr Yamamoto noted that Feed the Future would continue in reduced form under the Trump proposals, as would Mr Obama's Power Africa plan and the Young African Leaders Initiative (Yali).
Under that three-year-old programme, as many as 1000 young Africans identified as potential leaders are brought to Washington for seminars and training.
Mr Yamamoto said Yali is so popular that administrators have received 74,000 applications for 740 available fellowships. The State Department's top Africa officials also described Yali as "a very good programme."
'AMERICA FIRST'
But Yali would be cut under Mr Trump's budget proposals, Congresswoman Bass pointed out.
"Fifty percent," Mr Yamamoto affirmed.
Democratic Congressman Amerish Babulal Bera took issue with the 'America First' approach that underlies President Trump's budget making.
"The policies the president is putting forward will make us weaker and do not reflect our values," Congressman Bera declared.
Another Democratic congressman, Joaquin Castro of Texas, warned that a diminished US presence in Africa will reduce US influence and open political opportunities for rival powers.
With the Trump budget proposals, Mr Castro said, "we're ceding a lot of ground to other countries, such as China."