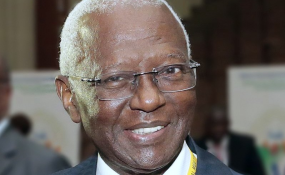 Photo: African Development Bank
press release
Washington, DC — Prof. Joseph Stiglitz, Economist and Professor at Columbia University and Nobel Laureate in Economics Sciences, will give the inaugural lecture in an international series being launched by the African Export-Import Bank (Afreximbank) in honour of the late Dr. Babacar Ndiaye, former President of the African Development Bank (AfDB).
Prof. Stiglitz will speak on the topic: "From Manufacturing Led Export Growth to a 21st Century Inclusive Growth Strategy for Africa" on Sunday 15 October in Washington DC.
The lecture will draw on themes outlined by Dr. Benedict Oramah, President of Afreximbank, in a recent keynote speech at New York University, where he discussed Africa's economic development and highlighted the role of intra-African trade and regional integration in driving growth.
"We are honoured to have Professor Stiglitz, a world-renowned economist and advocate for Africa's progress, delivering our inaugural lecture," said Dr. Oramah, adding, "As Africans we owe much to Dr. Babacar Ndiaye, who was instrumental to the creation of many of the continent's foremost institutions, including Afreximbank."
The Babacar Ndiaye Lecture series honours Dr. Ndiaye, who served as President AfDB from 1985 to 1995, for his many important contributions to Africa's economic development, in particular, his critical role in the creation of Afreximbank. He also enabled the Bank to earn its triple 'A' status, which it retains today. Dr. Ndiaye was also behind the creation of several other continental institutions, such as Shelter Afrique and the African Business Roundtable. He is credited with fostering the emergence of many young entrepreneurs who are helping to build Africa.
For more information, please contact: Obi Emekekwue (oemekekwue@afreximbank.com; Tel. +202-2456-4238)