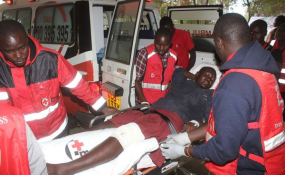 Photo: Sammy Lutta/Daily Nation
By Sammy Lutta
An angry student on Saturday shot dead six of his colleagues and a security guard in Turkana in a deadly revenge mission that lasted three hours after he was expelled from school due to indiscipline.
Abraham Lochor, said to be from South Sudan, sprayed bullets on fellow students at Lokichoggio Mixed Secondary School at 4am as they were sleeping, killing five of them on the spot and injuring another 18. Another student died later while being treated at a hospital in Lodwar.
The attacker, who led another four armed men, had first shot dead the school's guard, a Kenya police reservist who tried to repulse him and his accomplices, before they entered the classrooms where the boys were sleeping.
In a deadly turn, angry residents pulled Lochor out of a police station at Kakuma refugee camp and lynched him last evening.
The attack is said to have happened between 1am and 4am, but students who spoke to the Sunday Nation said the police arrived at the school at around 5am.
The boys slept in classrooms as there is no dormitory in the school for them. The attackers were said to have moved from one classroom to another picking those who were not in good terms with Lochor and shooting them on the spot.
BLOOD
In a cubicle where the girls slept, two were raped and shot. One of the girls succumbed to gunshot injuries in hospital.
The classrooms were on Saturday splattered with blood, evidence of the painful struggle the students who were shot underwent in the hands of the murderous gang.
Eight of the 22 injured students were airlifted to Moi Teaching and Referral Hospital for specialised treatment.
On Saturday, some of the students who survived the heinous attack recounted how they narrowly escaped death as the killer squad sprayed bullets at them.
At the girls dormitory, Christine Emuria and Leah Akai, both in Form Two, were traumatised after witnessing their colleagues being shot at.
Christine said she heard gunshots in the night near the school gate but brushed it off.
GUN SHOTS
"I thought it was the school guard who was firing at a bandit or a thief because the area is prone to banditry," she said.
However, minutes later, the gunshots intensified. She said they were terrified but they could not do anything because they did not know what was happening.
The attackers soon stormed their cubicle and attacked them, raping two of them.
"Two of the attackers came straight to our dormitory and started firing at our cubical where we were sleeping on the floor, just after switching off the main switch. One of them stabbed a girl on the buttocks with a knife while two other girls were raped after being ordered to remove their clothes. They later fled," said Christine as tears rolled down her cheeks.
She said she was lucky not to have been struck by the bullets but some of her friends were shot.
FLED
The attackers then fled.
They had attacked the boys before, picking their targets one by one and shooting them.
Joseph Lokaale, 20, a Form Two student, said he was among the students who were being targeted by Lochor.
He was traumatized as he peeped through the window where six students were spending the night before the unfortunate incident. He says that he was the target but failure to deliver a bank slip saved his life.
"I am one of the students here at Lokichoggio Mixed Secondary School and I am among those students who were being targeted by the killers. The ring leader was one of us and he is in Form One while I am in Form Two. He had been suspended but vowed to return to burn the school or do anything worse," said Lokaale.
He said he knew Lochor in 2009 while serving terms at a prison in South Sudan.
PRISON
"He left me in the prison after four months as I continued to serve my sentence until March 2010," said Lokaale, adding that Lochor had been imprisoned for assault while he had been found guilty of attacking a Sudanese People Liberation Army vehicle.
He said he was later released and joined the school in 2015. He said he recognised Lochor immediately they bumped into each other in the school.
"At the school, I was doubling up as a kitchen manager. One day as students were coming to take their food, I told him that he was familiar to me and that I had seen him in a South Sudan prison. He told he knew me but did not want to be in a hurry to tell me," said the student.
Lokaale said Lochor had told him that he was an SPLA soldier before joining school. The school, which was opened last year and had admitted only Form One and Two students, is just a kilometre from Kenya's border with South Sudan.
He said he knew he was one of those being targeted as he had defied an order not to reveal that Lochor was a soldier before.
SUSPENDED
Turkana County Police Commander Ronald Opili said Lochor led a group of four that was on a mission to kill any student he had crossed paths with before he was suspended from school a few weeks ago.
He said that after the attack, the killers escaped and headed to Kakuma refugee camp, some kilometres away. "We tracked the assailant and located him at Kakuma where security officers arrested him and took him to the police station. Angry members of the public stormed the police station and got hold of the boy, stoned him before lynching him," Mr Opili said last evening.
The student is said to have issued threats to teachers and students after he was suspended but no action was taken in the wake of the threats.
Turkana County Commissioner Seif Matata said the attacker had made it clear that he was going to avenge his suspension.
"He was heard telling fellow students that he would burn the school or do something more serious," the county chief said.
The other three attackers were yet to be identified and they remained large. But police said they had launched a massive search for them. It was not clear whether anyone from the school reported the threats. The school's principal yesterday said he was too traumatised to speak about the attack.