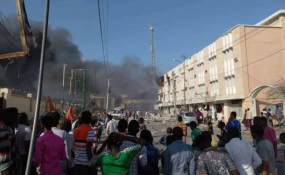 Photo: Shabelle
By Abdulkaidr Khalif in Mogadishu and Agencies
Somali President Mohamed Abdullahi Mohamed Farmajo has declared a three-day national mourning following a deadly explosion in Mogadishu on Saturday.
President Farmajo ordered the national flag to be flown at half mast during the mourning in honour of those killed.
A truck bomb exploded outside a hotel at a busy Mogadishu junction, causing widespread devastation.
The Kilometre 5 junction is in the Hodan District, a bustling commercial part of the city with many shops, hotels and businesses.
More bodies
The number of those killed and the wounded has not been established authoritatively, but it is believed the total figure could be in hundreds.
Initial reports indicated that more than 20 people were killed, with many more bodies believed to be trapped under the wreckage of buildings destroyed by the blast.
President Farmajo first visited the site of the explosion at Zoppe area, then went to various medical facilities attending to the injured.
Launch attacks
There was no immediate claim of responsibility, but the Al-Qaeda aligned Al-Shabaab terrorists carry out frequent bombings in Somalia in their bid to overthrow the internationally-backed government.
Though the Al-Shabaab militants were forced out of Mogadishu six years ago by the African Union and Somali (Amisom) troops, they remain a major security risk in the war-torn country.
The militants continue to control rural areas and launch attacks on military, government and civilian targets in Somalia, as well as terrorist raids in neighbouring Kenya.
The Saturday blast came two days after Somalia's Defence minister and army chief both resigned from their posts without explanation.
.