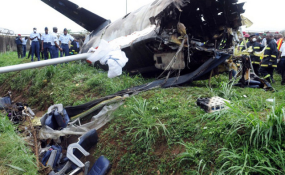 Photo: Angop
Dundo — The wreckage of the aircraft that crashed in the province of Lunda Norte on Thursday, were found Saturday in the town of Lunhiga, near the villages of Cabunta, 55 miles from Dundo, with no survivors among the occupants.
According to the coordinator of the commission and head of the department of the Office of Prevention and Investigation of Aeronautical Accidents (GPIAA), Pedro Gonçalves, the wreckage was found and the search work was completed, the collection of the mortal remains began and part of the wreckage is located in a site, at 90 kilometers off Cuílo.
Pedro Gonçalves assured that the next steps will be the continuation of the collection of evidence, in the early hours of tomorrow where a medical team will go to carry out the work for the study and investigation of the occurrence.
"The black boxes of the airplane have not yet been found, so it is premature to pronounce on the technical problems of the aircraft" - said the person in charge.
On board the plane were three crew members, namely João Oliveira da Silva, commander, Afonso Pedro, co-pilot, and Cláudio Manhico, flight attendant, and four passengers namely Paulo Miranda, Jack Lombard, Paulo Carvalho and Bonifácio Cataca.