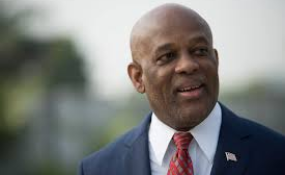 Photo: FrontPage Africa
By Lennart Dodoo
Monrovia — The standard bearer of the Liberty Party has called for a rerun of the October 10 presidential and legislative elections, alleging that it was marred by gross irregularities and fraud.
"The October 10 elections did not pass the minimum standards required for free, fair and transparent elections.
These elections were characterized by gross irregularities and fraud which undermined the integrity of the elections and deprived thousands of Liberians their constitutional rights to vote.
Based on our assessment of the evidence available, the results of these elections are not valid," he told journalists on Friday.
According to Cllr. Charles Walker Brumskine, the Liberty Party is conducting an in-depth investigation and will present to the National Elections Commission and evidence-back report to the National Elections Commission (NEC) for further action.
Cllr. Brumskine named the alleged stuffing of ballot box by a NEC presiding officer in Nimba; the alleged breaking of a ballot box seal in Bassa, the late opening of polls at some centers, and the omission of names from the voters roll, among others as some of the fraud and irregularities that flawed the elections.
"The Liberian people deserve to know what was done and who it. And they deserve a valid, transparent election."
"So many Liberians were deprived of their constitutional right to vote; we will, therefore, be requesting a re-run of the election."
"The burden of history will be appropriate laid where it should," he asserted.
Cllr. Brumskine is not the only presidential candidate having issues with the manner in which the elections were conducted.
The concerns being raised by the Liberty Party were also raised by the Alternative National Congress (ANC) of Mr. Alexander Cummings and Coalition for Democratic Change (CDC) immediately after the elections.
For Brumskine, the Liberty Party would exercise the law in seeking redress to their complaints.
On Saturday, NEC Chairman disclosed that he had received complaint from Mr. Benoni Urey of the All Liberian Party that results coming counties his party is popular in were unrealistic.
Urey complained that with his popularity in Montserrado, Bong and Margibi, there is no way that he would be trailing behind as being announced by the NEC.