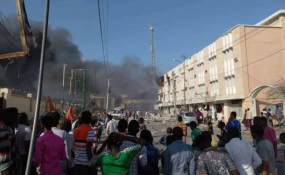 Photo: Shabelle
A bomb explosion in the heart of the Somali capital, Mogadishu, has claimed over 250 lives. The attack is one of the most deadly in the decade since the start of an Islamist insurgency.
The death toll from a bomb blast at a junction in the Somali capital, Mogadishu has risen to 276, with about 300 people injured, Somalia's information minister Abdirahman Osman confirmed on Sunday.
The truck bomb exploded on a busy street near key ministries in the Hodan district on Saturday.
Reuters news agency reported that there was a second explosion two hours later in the city's Medina district, but it remains unclear whether that blast caused casualties.
The attack is one of the most deadly since an Islamist insurgency began in 2007.
'National tragedy'
President Mohamed Abdullahi Mohamed described the attack as a national tragedy and announced three days of mourning.
UN Secretary General Antonio Guterres said he was "sickened" by the attacks. In a tweet on Sunday night, he urged "unity in the face of terrorism."
The United States has condemned the truck bombing as "cowardly," saying that such acts "reinvigorate the commitment of the United States to assist our Somali and African Union partners to combat the scourge of terrorism."
No group has so far claimed responsibility, but Information Minister Osman said the militant group al-Shabab was likely to blame.
Long-running insurgency
The al Qaeda-linked group has been waging a decade-long insurgency in an attempt to oust the weak UN-backed administration and establish a state based on its strict interpretation of Islamic law.
Al-Shabab once controlled Mogadishu but was forced to withdraw in 2011.
African Union peacekeepers have also driven the group out of most of the territory it previously held, but it still launches regular attacks in the country.
The US military has this year stepped up its pressure on the group with drone strikes and other measures. The blasts on Saturday came two days after the head of the US Africa Command met with the Somali president in Mogadishu.
That meeting came the same day that the country's defense minister and army chief resigned for undisclosed reasons.
tj/jm (Reuters, dpa)