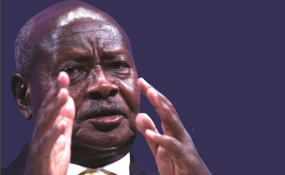 Photo: The Independent
By Josephine Namuloki & Olive Eyotaru
So far, public consultation by ruling NRM MPs on the proposed lifting of age limit for presidential candidates has been met with open hostility. To counter the dissent, the MPs have been advised to avoid open gatherings and instead hold consultations with select groups, write JOSEPHINE NAMULOKI & OLIVE EYOTARU.
When Kassanda South MP Simeo Nsubuga, an enthusiastic campaigner for the removal of the age limits, was attacked by William Ntege aka Kyumakyayesu, during Kabaka Ronald Muwenda Mutebi's 24th coronation anniversary in Mubende, the assumption was that it was an isolated incident.
Since then, the hostility has grown as consultations continue ahead of the presentation of the bill to remove age limits.
Two weeks ago, Raphael Magyezi (Igara West) tabled the controversial Constitution Amendment (No 2) Bill 2017 that seeks to lift the presidential age limits. Afterwards, Speaker Rebecca Kadaga urged MPs to go back and consult their constituents on the proposed amendment.
However, several MPs have been booed and heckled during these consultative rallies. This has forced the party leadership to advise MPs to change tact and selectively pick who they invite for consultation on this very polarizing bill.
Connie Galiwango (Mbale Woman) was booed in three different places as she tried to explain the age limit bill. Government Chief Whip Ruth Nankabirwa (Kiboga Woman) got a similar cold reception when she tried to rally people to support the age limit removal at the burial of Abel Rwendeire, the former National Planning Authority deputy chairperson.
Meanwhile, James Kakooza (Kabula), a key proponent for the removal of age limit, survived angry mourners at the burial of the father of Matthias Mpuuga (Masaka Municipality) in Lwengo. He was saved by the guards of Buganda Katikkiro Charles Peter Mayiga.
Also, State Minister for Tourism Godfrey Kiwanda (Mityana North) and Judith Nabakooba (Mityana Woman) fled a hostile stone-throwing crowd in Kiyoganyi town in Mityana.
Independence day celebrations at Boma grounds in Amolatar district turned chaotic after the area MP, Doreen Amule, one of the seconders of the Magyezi bill, survived lynching after residents grabbed a microphone from her as she attempted to explain her support for the amendments.
Other MPs who have faced similar predicaments include Jacqueline Aol (Nebbi Woman), Moses Walyomu (Kagoma), Doreen Amule (Amolatar Woman), Jacob Oboth-Oboth (West Budama South) and Sarah Opendi (Tororo Woman), among others.
TOUGH EXPERIENCE
Galiwango spoke to The Observer in an interview over the weekend in which she confirmed meeting different groups. She explained that given the pressure from her people, she was forced to hold impromptu consultative meetings to explain the Magyezi bill and get their views.
During three of her meetings in Mbale municipality, Nakaloke town council and Busiu sub-county, the people turned rowdy and warned her against supporting her party's plan to amend Article 102 (b). David Wamateke, the area NRM chairman, was present during the municipality meeting but was not given a chance to speak due to the hostility.
"It was on short notice and when they gave me their take, they were wild and said no. I told them they were right to express themselves and I will forward their positions to parliament. It is the reason the House asked us to consult," she said in an interview.
She added, "In Busiu, there was not even one response supporting the amendments. People were charged; so, I asked them: "what I should do in regard to Magyezi bill?" They were all bitter and said: "do not dare touch the Constitution".
She also disputed reports that she had been attacked, insisting that though the crowds were agitated, they were very peaceful and only asked her to respect their views on the amendments.
Oboth-Oboth, on the other hand, has since disputed reports that voters in his constituency threatened to beat him up during the inauguration ceremony of the archdeaconry for the Church of Uganda in Pajwenda in Mulanda sub-county.
Hinging the reports to bad journalism, the MP said the event was a peaceful function.
"The bishop is the only person who made reference to Article 102(b) and he said he did not like the fighting by MPs in parliament. He also said since I am the chairperson of the Legal committee handling the bill, they should pray for me so that God guides me," Oboth-Oboth narrated.
He added: "So, when I got up to speak, I was responding that I need the prayers and will do according to what God will guide us and then they prayed. Nobody, no single person heckled me at any one moment".
While Amule declined to discuss the matter, North Kyoga regional police spokesman David Ongom Mudong confirmed the incident to The Observer, explaining that the police had to disperse the residents to avoid violent scenes. Her security has since been enhanced at her home in Nalubwoyo village, Agwingiri sub-county and her security beefed up.
CHANGE TACT
During an NRM caucus meeting on Friday, President Yoweri Museveni reportedly cautioned legislators against holding "rally-like" consultative meetings, instead to invite small groups of people.
He reportedly stated that since the voters are aware that money is being given to the MPs to hold consultative meetings, they should devise means of consulting opinion leaders and local government leaders.
"Be careful. You will annoy people because you cannot give money for everybody; so, you have to stick to refreshment, hiring of the venue and public address system," the president reportedly told the NRM MPs during the Friday caucus meeting.
Nankabirwa confirmed the president's sentiments, explaining that it is impossible to consult all voters, hence a suggestion to draft guidelines for the NRM MPs on which groups they should consult with on the age limit bill. She said the MPs who were attacked rushed in a not-so-organised manner due to the pressure from voters.
"We are not going to campaign but to interface with stakeholders. How do I stand in a town or municipality and then begin to preach or talk? We have to take minutes and to allow them to express themselves. You cannot do it in a rally if you are a serious leader," she told The Observer in an interview on Friday.
Questioned on whether the method of consulting a small group of people would not be tantamount to segregation, Nankabirwa insisted that it is realistic to speak to leaders, who represent the views of a wider group of people.
"I cannot reach out to every voter. Did you think it is possible to involve 30,000 voters in Kiboga? I am not going to campaign. There are those methodologies because humanly it is not possible. Can we use the NRM party structures plus the local government leaders plus the opinion and religious leaders? You would rather go for structures," she insisted.
According to a source, Amule has since resorted to holding meetings with few supporters and makes them to sign their names and phone contacts on a form, as well as attach copies of their national IDs to confirm their support of age limit removal.
Some NRM legislators who spoke to The Observer on condition of anonymity said they are waiting for the Shs 29 million promised by parliament to hold consultations, before they can organize their constituency meetings.
Galiwango, on the other hand, insists she will continue with her programme of consultations in different sub-counties.
While she has been chided by some district party leaders for her approach in consultations which they term as dangerous, Galiwango said she would follow her plan.
"I am voted by everybody; that is why I did what I did. However, my party chairman indicated that I had not held my meetings the right way and had called the opposition, even when I called him to attend...I know my district best; so, nobody should condemn me for that. I know the people who voted for me and I still need them and they also still need me," she insisted.
RELIEF ON THE WAY
On Friday, the ministry of Finance released more than Shs 12.6bn to facilitate the MPs during their consultations on the bill. The money is expected to be wired on the MPs' individual accounts today (Monday).
Each of the 436 MPs will receive Shs 29m through parliament but NRM MPs will receive an extra package at a later stage, according to well-placed sources within the NRM caucus leadership.